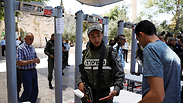 Temple Mount metal detectors
Shin Bet Director Nadav Argaman has expressed his approval of the cabinet decision to remove the Temple Mount metal detectors and cameras, saying that he believes it was the appropriate thing to do at the moment.

"Against the complicated and emotional background of the Temple Mount site, the cabinet decision balances many complicated considerations and it was the most appropriate decision for the security of the state and its citizens," Argaman told officials following the cabinet's decision.

Argaman told the same officials that the success of his visit to Jordan stemmed from cooperation and a longstanding relationship based on deep ties, understanding and trust.

Officials briefed by Argaman on the recent tensions said that the reality described by the Shin Bet was accurate and balanced, while taking into consideration the strategic complexity of those involved, including the Palestinian Authority, Hamas and neighboring countries.

Argaman had been sent to Jordan by Prime Minister Benjamin Netanyahu shortly after an Israeli embassy guard was attacked and stabbed by a 17-year-old Jordanian terrorist, who was shot dead along with another Jordanian bystander in the scuffle.

The Shin Bet director met with Jordanian counterparts to discuss the diplomatic crisis between them as well as the current round of tensions on the Temple Mount.

In that capacity, Netanyahu also asked Argaman to check with the Jordanians whether the removal of the metal detectors would be enough to end the crisis. The Jordanians indicated the gesture would not be enough and the cameras should also be removed.

Following his visit, Argaman briefed Netanyahu, who immediately spoke with King Abdullah, effectively ending the diplomatic row between the two countries.

However, not all Israeli security officials were as supportive of the decision.

During the cabinet meeting, Police Commissioner Roni Alsheikh warned, "If we surrender to this baseless claim of logic and remove the metal detectors and cameras, it will only give the Waqf an appetite for success."

Alsheikh continued, claiming that without metal detectors the situation will only deteriorate further and all other inspection methods will only be more invasive.

Alsheikh's views stand contrary to those of the IDF and Shin Bet, who both warned that if the metal detectors and cameras are not removed, Israel risks inviting a third intifada.

Meanwhile, Jordanian newspaper Ad-Dustour quoted senior Jordanian government officials who said a solution was imminent for the Temple Mount standoff. The solution would be based on the principles Jordan has insisted on—returning the situation to what it was before the July 14 terror attack.

The officials told the paper they were "convinced Jordan's efforts will cause Israel to go back on all of the steps it took in order to formulate a solution to the crisis. Israel knows Jordan insists on this and sticks to its terms, and will not concede even a millimeter."