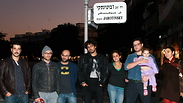 Several New Likudniks
Photo: Yariv Katz
We're not going anywhere
Op-ed: Lior Meiri, one of the founders of 'the New Likudniks,' explains the controversial new movement's ambitions to change the Likud party from within; 'The people responsible for our lives and our deaths, our present and the future of our children are not worthy of the positions they hold. It's time we do something about it.'
On 14 August 2006, at the end of the war, I left Lebanon. We were inside in the western sector for three weeks. Three separate occasions, I got too close to death. When I came home, I discovered that the finance minister had embezzled, and the president was being investigated on suspicion of rape, while the prime minister was suspected of corruption. I understood something sad and important: the people responsible for our lives and our deaths, our present and the future of our children are not worthy of the positions they hold. They were entrusted with a responsibility that must be treated with reverence, and instead they deal with trifles, corruption, intimidation, hatred and spin.

Since then, people have changed, parties have risen up and fallen to the wayside, but this feeling, of people who are not good enough to deal with the most important things for every person in Israel, has only gotten stronger. When I tried to understand how such unworthy people are given such great responsibility, I discovered the least-kept secret in Israel: the primaries system. A voting method that grants party members the ability to choose those who will determine all of our fates. Adding insult to injury, these party members—who make up one percent of the general population—are bound by pressure and special interests groups.



13 Likud MKs were voted into the current Knesset by less tham 8,000 votes, most of them with much less. Coalition Chairperson David Bitan, who yells at bereaved parents and calls Shin Bet agents "cowardly," is now trying to stop "the New Likudniks" from joining the party. Bitan himself received 6,200 votes in the party's primaries. MK Mickey Zohar, who wants to shut down Tel Aviv on Shabbat, received 1,906 votes. And MK Oren Hazan, the man who wants to visit "singer" and provocatuer "the Shadow" up to be a registered party member, got 5,986 votes.

Anyone with eyes in their head understands that these figures are ridiculous, and that the fact that a disproportionately huge power is granted to people who make every reasonable citizen recoil in shame necessitates some sort of balance. In order to change this situation, I and other like-minded liberal nationalists have established the New Likudniks. For six years we have been working on a volunteer basis, adding individual members one after the other. Not by the boxload from the settlements or from one committee or another that forces its members to sign up.

Today, the New Likudniks include more than 12,000 members—united, determined, and angry. Likud voters from the past and present. 30 new members join every day, and that number is only growing. In less than a year, we will have become the largest union in the Likud. The attempt to stop the New Likudniks from joining the party, beyond being anti-democratic (I am wary of using a harsher word), is doomed to failure like the war of the cart drivers against the use of internal combustion engines.

No parlor trick, the taking down of the Liku's registration site (ask Likud critic Shai Galili about that) or the breaking of the fax machine will not stop us. We will continue to add 800 – 1,000 new members every month. The only way to silence us is simply to ask what we want and start to do: a liberal secular unity government, a constitution, an education reform, a pension reform, equal burden, transparency, a war on corruption, the rule of law, equality before the law, a free market and deregulation.

Our party must choose whether it is the People's Party—open, democratic, alive and vibrant, growing from elections cycle to elections cycle—or where it is to allow members like Bitan and his friends to turn it into a rotten, frightened and withdrawn party, shrinking into irrelevance, an indentured servant of special interests lobbies, and worst of all—a party that will lose the elections.

Lior Meiri is one of the founders of the New Likudniks.