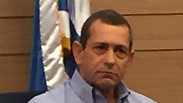 Current Shin Bet head Nadav Argaman
Photo: Gil Yohanan
Former Shin Bet heads blast critical politicians
Several former heads of the Shin Bet blast Minister Miri Regev and Coalition chairman David Bitan who criticized the organization and its employees during the recent Temple Mount crisis; Yaakov Peri: 'Politicians who are not familiar with the organization's conduct and the difficulties facing those who serve it must not go against it.'
Several former heads of the Shin Bet have spoken out in defense of their organization after several politicians strongly criticized the agency during the Temple Mount crisis.

Minister of Sport and Culture Miri Regev (Likud) referred to the organization as "delusional," while Coalition Chairman David Bitan (Likud) called Shin Bet officials "cowards."

"I would have never thought to listen to people like Bitan—who I have no idea where he even did his military service—or Miri Regev, despite her splendid service," said Ami Ayalon, who was head of the Shin Bet from 1996-2000.

"Their understanding of what they define as fear or courage, delusion or real, has no bearing, and no one should take them seriously. Unfortunately, there are apparently people who take these things seriously, and thus weaken those who maintain a measure of sanity in the decision-making process in the State of Israel, thus preventing unnecessary bloodshed.

"With all due respect to Regev, who isn't even a cabinet minister, and Bitan, who isn't even a minister, the director of the Shin Bet isn't supposed to meet with them, report to them or even listen to them. I don't know if they believe what they said, but maybe they think it will get them more votes in the primaries.

"I am pleased the prime minister expressed himself in a decisive and immediate manner and said his opinion, and although there are many times I disagree with him, this time he did exactly what was expected of him," said Ayalon.

Carmi Gillon, who headed the organization from 1995-1996, does not believe Netanyahu's disavowal of the statements made by his party members.

"The Shin Bet will not become a punching bag so fast. We know the Netanyahu method, he uses megaphones. I find it hard to believe Bitan and Miri Regev speak without instructions from above. Whenever they speak about security or political issues, it comes from the Prime Minister's Office. Their statements are not spontaneous."

Gillon continued his attack on the political echelon, saying, "The Shin Bet is a professional body without political affiliations, no matter who heads it. The fact is that the political echelon made a very foolish decision and all the conduct concerning the Temple Mount was contrary to the unequivocal recommendations of the IDF and the Shin Bet."

Yoram Cohen, who headed the organization from 2011-2016, said the "expectation is that the prime minister will call a Likud meeting and instruct them to stop with the offensive and untruthful statements in the media."

Cohen further lamented the current situation, saying, "It is disappointing and saddening to hear the statements of elected officials in the Knesset and government, which hurt thousands of Shin Bet employees who keep the country and its people safe from harm 24 hours a day, 365 days a year.

"The Shin Bet and its director express their position professionally, eloquently and without political leanings. They rely on extensive experience, intelligence and professional analysis, and the prime minister and cabinet are entitled to accept or reject whatever position," said Cohen.

Yaakov Peri, who headed the organization from 1988-1995, did not mince words and bluntly told politicians, "Take your hands off the Shin Bet."

"The Shin Bet is the central link and highest authority in intelligence collection and counterterrorism activities. Its situational assessments are state-mandated and devoid of political connotations. Unbridled attacks on the organization are shameful," he added.

"Shin Bet employees dedicate their personal lives, their families and their security to others. To elected officials and to citizens. As someone who served in the Shin Bet for 30 years and headed the organization, there are those that can be trusted. However, politicians who are not familiar with the organization's conduct and the difficulties facing those who serve it must not go against it," said Peri.