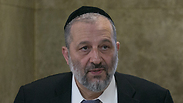 Interior Minister Aryeh Deri
Photo: Ohad Zwigenberg
The government is set to vote Sunday on an amendment to the Entry into Israel Law proposed by Interior Minister Aryeh Deri, which allows the deportation of illegal migrants to another country even without their consent.

The proposed amendment came after Supreme Court ruled on Monday that the State of Israel cannot detain illegal migrants for more than 60 days.

According to the existing law, migrants who refuse to be deported can be held against their will indefinitely at Saharonim Prison—a detention facility for African asylum seekers located in the Negev—until they are "convinced" to be deported to another country.

The result, according to the Ministry of the Interior, is the illegal residence of some 40,000 immigrants from Eritrea and Sudan in Israel.

Prime Minister Benjamin Netanyahu and Justice Minister Ayelet Shaked have already announced they intend to support Deri's initiative to amend the existing legislation.

"I toured south Tel Aviv and saw the daily suffering of the residents, whose life in recent years has become a nightmare," Deri said. "This difficult reality also exists in Eilat, Jerusalem, Pardes Katz, Petah Tikva, Hadera, Netanya, Ashdod and other communities around the country. It is time to put an end to this, and I intend to act on several levels to take care of the residents of the State of Israel, who suffer greatly."

Deri will present the government ministers with updated data on the number of illegal aliens currently living in Israel and the impact of their stay on the lives of local residents. He is also set to demand to add an additional 250 Population and Immigration Authority inspectors to the 120 inspectors currently operating.

According to the interior minister, "The Population and Immigration Authority has complained that the number of inspectors who are supposed to enforce the law regarding illegal aliens is low and insufficient. I hear also complaints about this in my tours of Israel from residents of neighborhoods who have illegal aliens living next to them.

"I intend to demand that the prime minister, the minister of finance and the other ministers in the meeting on Sunday increase the number of immigration inspectors in order to ultimately better the lives of the residents of the State of Israel."