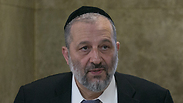 Minister of the Interior Aryeh Deri
Photo: Ohad Zwigenberg
Deri pledges to push ahead with forced-deportation initiative
After receiving unpublicized tour of south Tel Aviv with PM, Deri promises to work closely with Netanyahu and justice minister to amend third-country agreements allowing for deportation of migrants without consent; promises to find 'good, safe places' for them, while vowing consequences against their Israeli employers.
Interior Minister Aryeh Deri reiterated Tuesday his intention to amend agreements with third African countries which would enable him to bypass a recent High Court ruling preventing forced deportation of illegal migrants, who he said constitute "a great burden."

The comments came as the minister recounted his experiences during a clandestine tour of south Tel Aviv with Prime Minister Benjamin Netanyahu, which took place shortly after the latter paid a public visit to the area.

"Illegal aliens, most of whom are concentrated in Tel Aviv, are a great burden and a task we must tackle head-on," said Deri, two days after being given a tour of southern Tel Aviv in an unmarked car along with Netanyahu.

"The best thing the prime minister could have done is exactly what we did. We walked on foot, talked to people, went into businesses and shops and just saw everything with our own eyes and tried to get a feel for what's happening there," said Deri after the unannounced visit.

"A certified guide from the Immigration Authority took us through all of the streets and alleyways and the prime minister's description, calling it a 'state within a state,' was accurate," he added.

"These aliens crossed over from Egypt back when there was no fence. Somebody loaded them up and dropped them off in south Tel Aviv. Somebody has to answer for that decision and why south Tel Aviv of all places, home to the weakest of populations in great need of development," he lamented.

Deri added that the problem started as far back as 2007 and claimed that if a fence had not been constructed when it was, the country would be forced to deal with up to 1.5 million more infiltrators, effectively putting an end to a Jewish state. This is a strategic threat first and foremost and we are all the better for having gotten rid of it. No new infiltrators are coming in and 10,000 have already willingly left."

Deri and Netanyahu's tour of south Tel Aviv was held only days after the High Court decreed illegal migrants couldn't be detained for more than 60 days if they object to "willing deportation", but deporting them to a third African country is permissible. Deri was also working with Minister of Justice Ayelet Shaked on amending the agreements with those third countries allowing those who came to Israel seeking work to be deported even without their consent.

"I sat down a few times with people from south Tel Aviv," Deri commented on this matter. "We were expecting the High Court's ruling and I promised them as soon as the third country agreement framework was approved, I'd be able to send most of the infiltrators back to those countries within a year."
The government works to amend third-country agreements
Deri said he regretted the court's decision to approve the overall framework while failing to grant him permission to force the migrants to leaeve against their will. "Now I'm working with the prime minister and justice minister to amend the agreements with the third countries and start a legislation process. I promise the residents of south Tel Aviv, we'll be sitting down with the prime minister to discuss this on Thursday. We'll use every administrative tool at our disposal to send aliens to the good, safe countries we've found for them."

The minister stated his intention to ramp up the pressure on the migrants'' employers as well by imposing hefty financial penalties. "We've allowed the infiltrators to work so far, and haven't fined employers despite the fact they're in the country illegally. From now on, the employer of any infiltrator who's offered to be sent to a third country and refuses will be fined in a major way," Deri warned.

"The message we're trying to send those infiltrators is, 'Don't exploit the court's decision to stay here. It isn't worth your while because you won't be able to work.' We'll make life difficult for people who should've gone to a third country but refused to do so," he promised.

Finally, Deri addressed the several police investigations pending against both the prime minister and other ministers in the cabinet. "Everything should be viewed in the right proportions," said Deri. "This government is one of the finest I know. It has done so much, made so many decisions and stared down so many challenges. What I say is—including about myself—let the government and the state attorney do their jobs. What are the courts for? What are hearings for? The people of Israel should be proud their country is a free and democratic one, and that the police may arrest and question anyone, which is an advantage over other regimes."