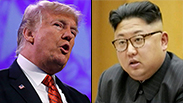 President Trump (L) and Kim Jong Un
Photo: AFP, Reuters
North Korea 'ready and willing' to respond to 'US gangster'-led sanctions vote
N. Korea promises to 'tame US gangsters' after US calls for tougher UN measures against it; UN Security Council votes on new sanctions Monday; original draft resolution that included ban on oil and gas exports to country, in addition to personal sanctions against N. Korea Leader Kim, was mitigated due to pressure from N. Korea allies China, Russia.
"The world will witness how the DPRK tames the US gangsters by taking a series of actions tougher than they have ever envisaged," North Korea's Foreign Ministry's spokesperson stated on Monday, following the US's call push for the United Nations Security Council to vote for new sanctions against North Korea. The proposed resolution, though less severe than the US originally aimed to secure, is to be voted on by the council on Monday.

Following news of the vote, North Korea's Foreign Ministry issued a statement, saying it was watching the United States' moves closely and warned that it was "ready and willing" to respond with measures of its own. It also warned the United States it would pay a "due price" for spearheading the sanction efforts.

"The US is trying to use the DPRK's legitimate self-defensive measures as an excuse to strangle and completely suffocate it," the statement said, using the acronym for North Korea's formal name. "Since the US is revealing its nature as a blood-thirsty beast obsessed with the wild dream of reversing the DPRK's development of the state nuclear force which has already reached the completion phase, there is no way that the DPRK is going to wait and let the US feast on it."

North Korea's Foreign Ministry spokesman added that the United States was "going frantic" to manipulate the Security Council over Pyongyang's nuclear test, which it said was part of "legitimate self-defensive measures."

"In case the US eventually does rig up the illegal and unlawful 'resolution' on harsher sanctions, the DPRK shall make absolutely sure that the US pays due price," the spokesman said in a statement carried by the official KCNA news agency.

"The DPRK has developed and perfected the super-powerful thermo-nuclear weapon as a means to deter the ever-increasing hostile moves and nuclear threat of the US and defuse the danger of nuclear war looming over the Korean peninsula and the region."

North Korea conducted its sixth nuclear test a week ago and has been launching ballistic missiles at a record pace. Both are violations of UN resolutions, but Pyongyang claims it must carry them out to build nuclear deterrent against what it sees as US aggression.

Undaunted by the international criticism of its test, which Pyongyang said was of a hydrogen bomb, Pyongyang celebrated through the weekend, with concerts and banquets for the country's nuclear scientists and engineers.

An earlier draft circulated by the United States called for imposing the toughest-ever UN sanctions on North Korea, including a ban on all oil and natural gas exports to the country and a freeze of all foreign financial assets of the government and its leader, Kim Jong Un.

The current draft resolution, however, appears to have been watered down to appease North Korean allies Russia and China, which both have veto powers, diplomats said. While it no longer proposes blacklisting Kim and reduces sanctions on oil and gas, it still proposes a ban on textile exports.

The Trump administration presented the current draft to China and all other Security Council members last Tuesday and demanding a vote in six days. Diplomats said China's UN ambassador Liu Jieyi, who was on a Security Council trip to Ethiopia, flew back to New York on Thursday to take part in the negotiations.

Ethiopia's UN mission, which acts as the current Security Council president, issued a statement late Sunday, saying that members would vote on a North Korea resolution following a meeting Monday afternoon on implementing existing sanctions against the Pyongyang government.

A Security Council resolution needs nine votes in favor and no vetoes by the United States, Britain, France, Russia or China to pass.

Previous UN sanctions resolutions have been negotiated between the United States and China—North Korea's main trading partner and ally—and have taken weeks, and in some cases months, to finalize.