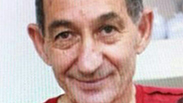 Three Palestinians involved in deadly Rosh Hashanah attack convicted of manslaughter
The group's members—Muhammad Abu Kaf, Walid Atrash and an unnamed minor—are convicted of manslaughter by J'lem District Court for throwing rocks at car of Alexander Levlovitz, causing him to lose control, swerve into ditch and evetually die of his wounds; last year, the group's fourth member—Abed Dawiat—was sentenced to 18 years in prison.
The Jerusalem District Court convicted Muhammad Abu Kaf, Walid Atrash and an additional unnamed minor of manslaughter for the killing of Alexander Levlovitz on Rosh Hashanah eve two years ago, in an attack marking the beginning of the lone-wolf wave of terrorism.

After the holiday meal, Levlovitz drove two guests home, and was later killed when Palestinians pelted his car with rocks.

Abu Kaf and Atrash, both residents of east Jerusalem, were part of the group that carried out the attack. The convicted minor acted as their lookout.

Maya, Levlovitz's daughter, published a pointed Facebook post after the verdict. "He heard and decided," she wrote, referring to "the Honorable Judge Rafi Carmel, after two years of legal deliberations, after hearing ludicrous arguments from the defense such as 'he had a heart attack', 'it rained rocks' and 'cops put the rock in the car' and other such absurdities.

"Dad, I kept my promise. I said I would not rest until justice was served. While we don't love the manslaughter—as opposed to murder—charge, at least we were properly represented by Lizu Wolfus from the State Attorney's Office, received close, sensitive accompaniment from the court's guards and were blessed with a courteous, caring judge like Judge Carmel. Today it finally happened, the verdict. 'I convict the three of manslaughter,' said the honorable judge. The conviction includes very serious charges.

"Dad, next week we'll be commemorating two years since the disaster struck us (...) We won't forgive, we won't forget," she concluded.

The indictment said the accused got together on Rosh Hashanah eve 2015 to pelt cars at vehicles passing on the road leading to Jerusalem's Armon Hanatziv neighborhood as an "act of reprisal" for the Temple Mount crisis.

The convicted threw rocks at several cars, eventually hitting Levlovitz's vehicle, which swerved off the road and hit a power line. Levlovitz later died of the wounds sustained in the crash.

After viewing the result of their attack, the four members of the group fled and later met up again and coordinated their accounts of the event in case they were caught. Levlovitz was the first casualty of the 2015 terror wave.

The main defendant in the terror attack, Abed Dawiat, was convicted of manslaughter as part of a plea deal and sentence to 18 years in prison. Another minor, convicted of aiding and abetting the attack, waws sentenced to nine years.