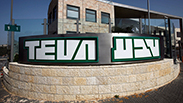 Drugmaker Teva hires Lundbeck CEO Schultz to restore its health
In the past 30 years, Schultz has served in various senior positions in the global health industry; Now he's tasked with getting Teva back on its feet after the company lost more than a third of its value in August following reported massive quarterly losses.
Teva poached Lundbeck's Kare Schultz as its new chief executive on Monday, handing the drugs industry veteran the urgent task of convincing investors of the struggling Israeli firm's future.

An acquisition spree saddled Teva with huge debts, eroding confidence in the world's largest generics drugmaker, whose stock has halved since early August when it cut its forecasts.

One key initial decision for Schultz, who will be paid a base salary of $2 million a year plus various bonuses and stock options and is getting a $20 million signing-on fee, will be to decide whether to maintain Teva as both a generics and specialty drugmaker, split it in two or get out of low-margin, high competition generics.


Schultz, with 30 years of global pharma experience, told Reuters he will develop a "very clear strategy" to address Teva's "various restructuring initiatives" as well as more than $35 billion in debt it took on to buy Allergan's generics business last year.

Analysts and investors said Teva paid too much for Actavis while Teva's generics are suffering, particularly in the United States where customers have been negotiating lower prices. Teva expects the fall in US generic prices to accelerate into 2018.

Of Teva's second-quarter revenue of $5.7 billion, $3.1 billion came from generics, with $2.1 billion from its own branded drugs. About half the sales of its own medicines come from a blockbuster multiple sclerosis drug which has started to face generic competition.

Such a gloomy outlook led Teva to reduce its 2017 revenue estimate by about $1 billion to $22.8-$23.2 billion and its earnings per share forecast by at least 60 cents. It also slashed its quarterly dividend payout by 75 percent.

Teva has said it plans to pay down $5 billion of debt by the year-end and is selling off non-core businesses such as its women's health business and European oncology and pain unit.

Teva's shareholders welcomed 56-year-old Schultz's hiring, with its shares rising by nearly 16 percent in New York, while Denmark's Lundbeck fell by more than 13 percent.

"We anticipate the commitment to the company's branded business to remain, with a focus on building the branded pipeline as the company de-levers. We continue to view a split of the company as an unlikely scenario," Citi analyst Liav Abraham said of Teva's move, adding Schultz is likely to focus on Teva's cost base in the near-term.
No plan to split
Benny Landa, a vocal private investor in Teva wants it to be run more like Novartis whose generics unit Sandoz is run as a separate firm, or for it to divest generics completely.

"Teva has an outstanding R&D capability and product innovation capability. Had it not squandered tens of billions of dollars (on Actavis) they would have also had the ability to make some significant acquisitions in that area," he said.

But Teva Chairman Sol Barer told Reuters the focus was on restoring credibility and there were "no plans now" to split.

Teva, which cooperates with Lundbeck on several drugs, said Schultz will join and relocate to Israel as soon as practicable.

Criticism over the Actavis deal led to the departure in February of former CEO Erez Vigodman, while Barer and Teva's board have come under fire for taking so long to replace him.

"We wanted to make sure we got it right," Barer said, adding Schultz had global, pharmaceutical and turnaround experience.

"At Lundbeck, it was a troubled company and he turned it around and created significant value for shareholders. And, he has significant credibility with stakeholders," Barer said.

Schultz became Lundbeck CEO in May 2015 after leaving Novo Nordisk and the Danish firm's share price has more than tripled since he returned it to profit by slimming costs.

At Teva, Schultz will also face significant challenges.

The company has put Iceland-based Medis, a supplier of development work to third-party drugmakers, up for sale and is looking to team up with other drugmakers to fund some of its development pipeline.

It has some 21 specialty medicines for migraine, pain, respiratory and neurology in various stages of development, from early stage clinical trials to awaiting regulatory approval.

In April, the US Food and Drug Administration (FDA) approved Teva's drug to treat chorea stemming from Huntington's disease, a fatal degenerative disorder, which is expected to produce sales of $850 million by 2023.

And another experimental drug to prevent migraines is now waiting to be cleared by US regulators ahead of a possible launch in the second half of 2018.