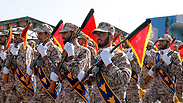 Iranian Military parade
Photo: EPA
Iran shows its defiance of the US, carefully
Analysis: While Iran's defiant stance against the US may seem provocative, especially after they unveiled a new missile and its test footage just days after Trump's threat to scrap the nuclear deal over their aggressions, a closer look attests to it being more calculated and risk averse than it appears to be at first glance.
Trump's speech at the UN General Assembly gave rise to a series of provocative reactions from North Korea and Iran, the two Axis of Evil countries that Trump mentioned and even threatened in his address.

But there is a difference between what is currently happening on the American front against North Korea and what is happening on its front against Iran. Iran is easily the simpler case here. Trump handed it a yellow card with a reddish frame, meaning not really a threat of war or their utter destruction or even an actual threat to scrap the nuclear agreement with it.

Trump made do with a warning and a threat to re-examine the nuclear agreement signed with Iran in 2015. It is clear that the carefully worded speech from Washington does not even signal an intention to completely bin the nuclear deal.

The Iranians responded accordingly.

In his speech at the UN General Assembly, Iranian President Hassan Rouhani repeated the usual statements—Iran has the right to develop advanced long-range ballistic missiles—but reiterated these were not intended for offensive purposes against Iran's neighbors and against Europe, but only for deterrence.

Simply put, the Iranians claim their missiles are designed to prevent an attack on their soil by hostile countries such as the United States, Israel and the Arab Gulf states, who may be plotting it.

The Islamic Republic claims it has the right to develop the missiles, even if the UN does not like it and even if it violates UN Security Council resolutions. This is the argument and the rationale the Iranians truly believe in.

The Iranians claim and insist there is no connection between the ballistic missile program they are continuing to develop and the nuclear agreement they are meeting to the letter.

Iran reveals test launch of recently unveiled missile

This is despite the fact it's pretty obvious to everyone the development of ballistic missiles capable of carrying nuclear warheads has a clear connection to the Iranian nuclear program: When the restrictions on nuclear development in Iran are removed, it will already have long-range missiles ready to carry the nuclear warheads it will produce.
No real threat
This disagreement between Iran and the international community is one of the roots of the dispute between Tehran and the world, but Iran under the influence of the Revolutionary Guards and Supreme Leader Ali Khamenei not only shows no sign of willingness to compromise with the United States and the United Nations, but also took a defiant step when on Friday it presented a ballistic missile the Iranians say can carry multiple warheads and has a range of 2,000 kilometers, which easily covers all the Arab states and Israel.

On Saturday, the Iranians continued their defiance and presented a test launch of this missile. They did not reveal when this experiment took place, and it is impossible to learn much from the photographs except that the missile was launched and the second stage of the test was successful.

But it is still far from Iran's claims this is a missile that can reach a range of 2,000 kilometers and can carry multiple warheads, each of which can strike a separate target.

In the past, many Iranian statements proved to be baseless, so we need to wait for more accurate data collected by Middle East and American intelligence agencies.

Besides, Israel is already in the final stages of development of an interception missile designed to deal precisely with missiles such as the Iranian one. Arrow 3 is supposed to intercept such missiles on their flight path, before they deploy their warheads.

But the bottom line is Iran is not taking any more serious measures that threaten its neighbors or US assets, but merely showing "moderate" defiance.

Therefore, Trump's response to Iran is measured. The US president recently signed a series of sanctions against Iran's missile program, but these sanctions are in fact a rehashed version of old and not particularly harsh sanctions.