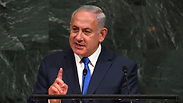 Prime Minister Netanyahu. The mass support rallies don't reflect Likud voters' real stance
Photo: AFP
Israelis don't believe Netanyahu, but see no alternative
Op-ed: On one hand, most Israelis reject Netanyahu's version that he's innocent and believe he should resign if indicted. On the other hand, he is considered best suited to be prime minister. Special New Year survey also shows Israelis are more concerned about cost of living than about security situation, and 86 percent are satisfied with their personal situation.
In case you didn't know, you're happy—or at least content. Next time you chat with your friends, remember you must stop complaining. Yes, you're content.

According to a special poll conducted last week by Dr. Mina Tzemach and Mano Geva among 533 people, who make up a representative sample of Israel's adult population, 86 percent rated their personal situation as "good," "very good" or "excellent," and nearly half of them (49 percent) chose the higher levels—"excellent" and "very good." Only 10 percent of the population said their situation was "bad," "very bad" or "extremely bad."

As a side note, there is no difference between men and women in this satisfaction index and it has nothing to do with the respondent's age.

There appears to be a correlation between our satisfaction with the situation in Israel and our feelings regarding our personal situation. Seventy-one percent of Israelis rate the security situation as good to excellent, and 53 percent say the same about the economic situation. The social situation, however, is not as good (only 42 percent rate is as good to excellent, compared to 55 percent who believe it is bad to extremely bad).

Nevertheless, in a country with so many protests—from the disabled to the anti-corruption demonstrations outside the attorney general's house—where young people are unable to buy an apartment and are forced to increasingly rely on their parents, where the poverty index increases every year and the security threats grow, who would have thought we would still be so content?

When the respondents were asked to choose the State of Israel's most serious problem, there was no unanimity. The cost of living came in first, selected by 30 percent of respondents. It was followed, way behind, by the security situation (17 percent), the gaps between rich and poor (15 percent), housing prices (12 percent), tensions between rightists and leftists (9 percent) and tensions between religious and secular Jews (8 percent).

The most interesting figure is a decisive response to Culture Minister Miri Regev, who made quite a contribution this year to the incitement between Sephardim and Ashkenazim in Israel: Only 1 percent of the public believe that the tensions between Ashkenazim and Sephardim are the State of Israel's most serious problem, which only goes to show that while the Israeli public doesn't consider the ethnic demon a real problem, it serves as a tool in the hands of politicians or other interested parties.

If there's one issue the majority clearly agrees on it's the equal share of the burden. The secular Israeli public won't accept the fact that the ultra-Orthodox aren't sharing the security burden. Seventy percent of respondents are in favor of drafting Haredim into the IDF, only 20 percent are against it, and 10 percent haven't made up their minds.

But when it comes to the High Court of Justice, which recently struck down a law postponing Haredi draft, 46 percent of the public believe the court is overstepping its authority by cancelling laws enacted by the Knesset, while 39 percent disagree.

An even more alarming figure is that 50 percent of the Israeli public see the need for legislation to restrict the High Court's authority. In other words, they are in favor of the law planned by Bayit Yehudi leader Naftali Bennett and Justice Minister Ayelet Shaked to "restore balance" between Israel's three legislative branches that would essentially enable the government to bypass High Court rulings.

The political arena offers some significant changes. According to Tzemach and Geva's Rosh Hashana survey, the right-wing camp—which include the Likud, Kulanu, Bayit Yehudi and Yisrael Beytenu parties—is losing support: From 54 seats in the current Knesset to only 50 seats according to the poll.

In the centrist-leftist camp, Labor leader Avi Gabbay remains impressively stable with 22 Knesset seats for the Zionist Union. An interesting figure revealed by the poll is that following Gabbay's election, voters' loyalty to the Zionist Union is higher than voters' loyalty to Likud. Seventy-four percent of respondents who voted for the Zionist Union in 2015 say they plan to vote for the party again in the next elections, while only 62% of respondents who voted Likud plan to vote Likud again in the next elections.

Another significant finding has to do with the effect the prime minister's investigations have on Likud voters. Only 74 percent of those who voted for Likud in 2015, and who say they believe Benjamin Netanyahu is innocent, plan to vote for Likud again. Twenty-five percent say they will vote for other parties. Among those who voted for Likud in 2015 and who don't believe Netanyahu is innocent, only 35 percent plan to vote for Likud again. Forty-seven percent say they will vote for other parties. This goes to show that the mass support rallies organized for Netanyahu do not reflect Likud voters' real stance.

The following figures refute Sara and Benjamin Netanyahu's repeated statement that they have the people's support. Asked "do you or don't you believe Netanyahu when he says there is no truth whatsoever in any of the suspicions raised against him in the investigated affairs," only 12 percent said they had complete faith in the prime minister. Twenty-two percent tend to believe him, while 20 percent tend not to believe him and 34 percent (more than one-third of the Israeli public) don't believe him at all.

The public's faith in the prime minister's wife is even lower. Asked "do you or don't you believe Sara Netanyahu when she says she was unaware of the food ordered from luxury restaurants at the state's expense for the Netanyahu family's private needs,'" only 8 percent of respondents said they believed her. Twenty-one percent of the public tend not to believe her, and forty-nine percent (almost half of the Israeli public) don't believe her at all.

I wonder what the result would be had the respondents been asked if they believed Sara Netanyahu worked as a full-time psychologist in the public service, as the Netanyahus and their associates have been claiming all these years. Figures published last week, following a court appeal filed by journalist Ben Caspit, revealed that Mrs. Netanyahu worked an average of two hours a day, which are nowhere near a full-time job, and was absent most of the time (for justified reasons, of course. Yeah, right).

This leads to the interesting finding provided by the following question: "If the attorney general decides to indict Netanyahu, should the prime minister resign or not?" Sixty-three percent said they were certain or thought Netanyahu would have to resign, and only 29 percent are certain or think he won't have to resign.

What will happen if Netanyahu does resign? Fifty-seven percent of the public say general elections should be called. That's quite a high number, considering the fact that the public is usually against general elections. Twenty-eight percent believe that if Netanyahu resigns, he should be replaced by another candidate from the Likud party who will establish a new government in the current Knesset.

These figures point to the public's maturity. On the one hand, the public is against corruption and believes that if there is any truth in the suspicions, the prime minister must resign. On the other hand, the grade Netanyahu receives for his performance as prime minister is better than expected. Forty-nine percent rated him as a "pretty good" to "very good" prime minister.

Asked who is best suited to be prime minister, most respondents still favor Netanyahu over his rivals. Twenty-nine percent believe Netanyahu is the best candidate while 12 percent prefer Yair Lapid, who is followed by Avi Gabbay with 10 percent, and Moshe Kahlon and Naftali Bennett with 5 percent each. Twenty-four percent, by the way, say none of these five party leaders are fit to be prime minister. In other words, there is still no alternative for the position of prime minister apart from the incumbent prime minister.

The respondents were also asked to choose the best suited person for defense minister out of a list of four names—the current defense minister and three former chiefs of staff who are not part of the political system at the moment. Former IDF chief Gabi Ashkenazi was selected by 24 percent of respondents, followed by former Defense Minister Moshe Ya'alon (20 percent) and Defense Minister Avigdor Liberman (17 percent). Despite all of his titles and the growing interest in his tweets, only 9 percent of the public would like to see former Chief of Staff, Prime Minister and Defense Minister Ehud Barak return to the Defense Ministry.

At the start of a new Jewish year, about 61 percent of Israelis say they are optimistic or pretty optimistic about the state's future, compared to 32 percent who are quite pessimistic or very pessimistic. The poll further reveals that men are more optimistic than women, and that optimism increases with age. Sixty-nine percent of Israelis over the age of 55 are optimistic compared to only 51 percent of Israelis aged 18 to 24. Let's just hope that the future in Israel doesn't just belong to men over the age of 55.