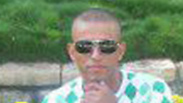 Terrorist Nimer Jamal.Wanted his act to be meaningful
Four lessons from the Har Adar attack
Analysis: Murder of three Israelis by Palestinian laborer calls for immediate conclusions to be drawn, both because of the sensitive timing in midst of High Holy Days and because it may encourage copycat attacks. While the attack should lead to an improvement in security checks and preventive intelligence capabilities on social media, it shouldn't have any implications on work permit system.
Tuesday morning's terror attack in Har Adar, which left three Israelis dead, requires us to draw immediate conclusions—both because of its sensitive timing and because it may encourage more Palestinians to imitate the terrorist or carry out attacks inspired by his.

The first lesson stems from the fact the terrorist did what he did following feelings of guilt and frustration of a personal nature, which have nothing to do with the Israeli-Palestinian conflict. Nevertheless, he wanted his act to be meaningful, beyond an act of personal despair. He wanted to leverage the attack and present himself as a martyr.

This isn't the first time Palestinian terrorists channel their social and personal frustrations into a violent act of terror, but this time we are talking about a relatively older man with four children. Nevertheless, he kills Israelis he knew, worked for, and had friendly relations with some of them.

He carries out this killing spree because he is aware of the amount of hatred towards Jews and Israelis in the Palestinian territories, and he realizes he could become a national hero. More importantly, he not only commits suicide, but also secures the economic future of his children and estranged wife, who will receive their monthly allowance from the Palestinian Authority. That way, he kills two birds with one stone—he becomes a national hero and secures his family's economic future.

These facts are important because we are in the middle of the High Holy Days, and according to Shin Bet Director Nadav Argaman, this is a particularly explosive period in the territories, during which any spark could lead to escalation. The terrorist's motives could lead to copycat attacks, especially among people with similar motives in similar situations. We must be careful the 2017 High Holy Days don't turn into the beginning of a new wave of terrorism, which is why the defense establishment must uphold the policy distinguishing between terrorists and the rest of the population so as not to provoke it.

The second lesson is that the Israeli intelligence still has a lot to learn and improve in producing preventive intelligence from social media. Collecting intelligence from a mass of posts and tweets on social media was once considered science fiction. The IDF's Intelligence Directorate and the Shin Bet were the pioneers in the field of producing preventive information from social media following the wave of terrorism that broke out in October 2015. The conclusions drawn by the Israeli intelligence and the methods it uses are learned all over the world.

The intelligence community has thwarted hundreds of terror attacks based on analyzed information from social media, but it has also missed some targets. Tuesday's terrorist was one of them. The message he sent his wife and his request that she share it on her Facebook page could have served as an alarm bell and a sign of the need for preventive action. Somehow, it slipped under the intelligence community's advanced technological measures and the searching eyes of the operators.

It happens, it could happen and it will happen in the future, but we must try to investigate in-depth—like in previous incidents—why it happened and try to improve the methods of collecting preventive intelligence.

The third lesson is that even in small passageways, known as "agricultural gates," which are used by Palestinian laborers to cross into Israel, the security checks methods must be changed to create a distance between the security forces and potential attackers, until they can guarantee they are not carrying any weapons.

The fourth lesson is that Tuesday morning's attack shouldn't have implications on the work permits granted to Palestinians. It has been proven in the past that people who receive permits to work in Israel avoid carrying out attacks so as not to harm their source of income. This rule is still effective. The Har Adar terrorist, who came from the village of Beit Surik, had a permit to work in Judea and Samaria—not inside Israel. The fact he carried out an attack proves how desperate and agitated he was on a personal level rather than determined to calmly carry out an attack on a purely nationalistic motive.

The work permits are necessary to distinguish between terrorists and the Palestinian population that wants to live its life. Denying the permits also serves as a sanction against accomplices and the terrorists' family members. We shouldn't rush to throw the baby out with the bathwater.