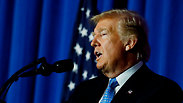 President Trump
Photo: Reuters
President Donald Trump on Monday condemned the largest mass shooting in US history as an "act of pure evil" and said the nation was "joined together in sadness, shock and grief" after at least 58 people were shot to dead in Las Vegas. Prime Minister Benjamin Netanyahu and President Reuven Rivlin sent their condolences following the shooting.

Speaking slowly and somberly from the White House, Trump declared that the nation would rally together in the face of the latest act of senseless violence.

President Trump's statement on Nevada massacre (צילום: רויטרס)

"Our unity cannot be shattered by evil, our bonds cannot be broken by violence," the president said. "It is our love that defines us today."

Trump praised the first responders who he said prevented further losses of life and said he would visit Las Vegas on Wednesday. He offered condolences to the families of those killed, saying, "We cannot fathom their pain. We cannot imagine their loss."

"We are praying for you," he said. "We are here for you."

Trump spoke hours after a gunman on the 32nd floor of a Vegas Strip casino unleashed a hail of bullets on an outdoor country music festival below. The gunman killed at least 58 people as tens of thousands of concertgoers screamed and ran for their lives.

More than 515 other victims were taken to hospitals, and investigators spent Monday morning combing the debris-strewn concert site along the iconic Vegas Strip.

In a morning tweet, Trump offered "my warmest condolences and sympathies to the victims and families of the terrible Las Vegas shooting. God bless you!" First Lady Melania Trump tweeted, "My heart and prayers goes out to victims, families & loved ones! #PrayForLasVegas"

Netanyahu issued his condolences on Monday, following the Las Vegas shooting attack in Las Vegas. "On this terrible day, the people of Israel stand shoulder to shoulder with the American people in mourning and sorrow. Our hearts go out to the victims' families and we wish a speedy recovery to the wounded. We grieve with you."

President Reuven Rivlin also sent a letter to Trump, expressing his deepest condolences. "The people of Israel join me in sending our deepest sympathy to you, to the participants in the festival, the people of Las Vegas and to all the people of the United States following this shocking attack which took the lives of so many innocent people and injured so very many more.

"We stand with you as you mourn the terrible loss of life and injury following this senseless attack on people who had merely gathered together to listen to music," added Rivlin.

Rivlin asked that Trump "convey our heartfelt condolences to the bereaved families and send our best wishes for a speedy and complete recovery to the many injured."

White House spokeswoman Sarah Huckabee Sanders said that officials "are monitoring the situation closely and offer our full support to state and local officials." The US Homeland Security Department said there was no "specific credible threat" involving other locations. Police have not yet determined a motive in the shootings.

SWAT teams using explosives stormed the gunman's room in the Mandalay Bay hotel and found he had killed himself, authorities said. He had as many as 10 guns with him, including rifles, they said.

The gunman was identified as Stephen Craig Paddock, 64, of Mesquite, Nevada. He had checked into the hotel room on Thursday, authorities said.

Since Trump's inauguration, there have been other mass shootings, including one in Texas last month, when a gunman killed eight and was fatally shot by police. But the Las Vegas attack is the deadliest in US history.

The president offered a measured, somber response in June, after a shooting at a shooting at a congressional baseball practice that wounded five, including seriously injuring Rep. Steve Scalise. But Trump has drawn criticism for more inflammatory and self-referential reactions to other acts of violence.

After a shooting at a gay nightclub in Orlando that left 49 dead in 2016, he tweeted, "Appreciate the congrats for being right on radical Islamic terrorism." In the wake of a deadly terror attack in London in June, Trump targeted the city's mayor on Twitter, suggesting he wasn't taking the attacks seriously enough.

After the June 2016 Orlando shooting, Trump—a presidential candidate competing in the GOP primary—called for a travel ban targeting Muslim-majority countries. The Orlando shooter, Omar Mateen, was born in New York to Afghan immigrants. After becoming radicalized online, he pledged his allegiance to the Islamic State group.

"The bottom line is that the only reason the killer was in America in the first place was because we allowed his family to come here," Trump said.

And he drew sharp bipartisan criticism in August when he suggested there was blame "on both sides" during a violent clash in Charlottesville, Virginia between white supremacists and anti-racist demonstrators that left one person dead.

Unlike his predecessor, Barack Obama, who often used mass shootings to call for stricter gun control measures, Trump made no mention of firearms restrictions on Monday.

During the presidential campaign, Trump cast himself as an ardent protector of the Second Amendment and proclaimed that if more "good guys" were armed with firearms there would be fewer gun tragedies. After the Orlando nightclub shooting, he suggested that if the club wasn't a gun-free zone, someone would have been able to stop the bloodshed.

"When I said that if, within the Orlando club, you had some people with guns, I was obviously talking about additional guards or employees," he tweeted in the days following the attack.

Trump has long offered strong support for gun rights. Earlier this year, he signed a resolution passed by the GOP-led Congress blocking an Obama-era rule designed to keep guns out of the hands of certain mentally disabled people.

Speaking to a gathering of the National Rifle Association in April, Trump told members they have a "true friend" in the White House.