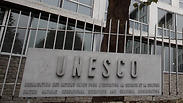 UNESCO chooses new chief amid tensions over Palestinian role
The United Nations Educational, Scientific and Cultural Organization's executive board votes to elect a new head for the organization, after the term of departing director Irina Bokova was sullied by financial problems and division over the inclusion of Palestine as a member state.
UNESCO's executive board is choosing a new leader to replace departing director Irina Bokova, whose tenure was marred by funding troubles and tension over its inclusion of Palestine as a member.

Intense diplomatic wrangling has marked the race among seven candidates to become the next director general of the United Nations Educational, Scientific and Cultural Organization. Arab countries have long wanted to lead the organization, though divisions over Palestinian membership have complicated their push.

Voting by UNESCO's 58-member executive board starts Monday and continues through the week until a candidate wins a majority. The choice then goes to the full UNESCO general assembly next month for final approval.

Leading candidates include Qian Tang of China, former Egyptian government minister Moushira Khattab and Qatar's former Culture Minister Hamad bin Abdulaziz Al-Kawari.

A top priority for the next director will be shoring up finances at UNESCO, best known for its World Heritage program to protect cultural sites and traditions around the world. The agency also works to improve education for girls in desperately poor countries and in scientific fields, promote better understanding of the horrors of the Holocaust, and defend media freedom, among other activities.

The US—once UNESCO's biggest financial contributor—and Israel suspended UNESCO funding when its members voted to make Palestine a member state in 2011. Many saw the vote as evidence of ingrained anti-Israel bias within the United Nations, where Israel and its allies are far outnumbered by Arab countries and their supporters.

UNESCO's second largest funder Japan then withheld its dues last year, saying it wanted to make sure UNESCO properly fosters trust among member nations—a decision widely viewed as a response to UNESCO's listing of Chinese Rape of Nanking documents as a memory of the world. Japan disputes China's historical views on the 1937 massacre, and a win for China in the race to head the organization could further jeopardize Japan's financial contribution.

In interviews with The Associated Press, candidates insisted they would set aside national interests and lead UNESCO with neutrality. But votes for the agency's top job are routinely overshadowed by national and regional divisions.

Some candidates are even meeting resistance at home. Six Egyptian rights groups protested Khattab's candidacy over the weekend, suggesting she was complicit in the Egyptian government's repressive policies. She insists in her UNESCO candidacy statement that she will uphold freedoms enshrined in the agency's values.

Meanwhile the dispute between Qatar and its neighbors over allegedly sponsoring Islamic extremism threatens to weigh on Qatar's candidate—along with media reports suggesting Qatar is trying to buy support among UNESCO members.

With the US role in UNESCO under question, some are speculating that China is trying to take advantage of the vacuum to dominate UNESCO and the UN agencies more broadly.

Chinese candidate Qian insists however that "China does not want to replace the role of the United States."

"I went to the State Department and I had a long discussion with officials there. I said 'I really don't think you Americans should give up your global responsibility especially in UNESCO," he said.

"We need America."