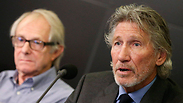 B(DS)FFs Ken Loach (L) and Roger Waters
Photo: EPA
British director Ken Loach donated the proceeds from the screenings of his latest film in Israel to the anti-Israel Boycott, Divestment and Sanctions (BDS) movement.

The film, "I, Daniel Blake," was widely acclaimed and screened in front of audiences at packed theaters in Israel last spring. At the end of the week, the British branch of the boycott group published a statement revealing it had been the recipient of all proceeds from the film's screening in Israel donated by Loach.

"Ken Loach, thank you for the support and generosity, it gives us strength," the organization's members told the British director.

They did not specify the amount they received from him.

"I, Daniel Blake," came out last year and won the Golden Palm Award at the Cannes Film Festival and the Best British Film award at the British Academy Film Awards (BAFTA), as well as being nominated and named best film in many other prestigious festivals.

The film tells the story of Daniel Blake, a working-class man who was crushed under the weight of bureaucracy after suffering a heart attack and being denied benefits despite his inability to work, forming a unique friendship with a single mother in the process.

The film's director, Ken Loach, is considered to be one of the best directors working in Britain today. Alongside Roger Waters, Loach is also the most prominent supporter of BDS in Britain.

Loach has signed numerous letters calling for a boycott of Israel and has even approached artists such as Radiohead demanding that they cancel their planned performances in Israel in the past. His efforts however, were to know avail with the show going ahead at full volume.

"Do not appear in a country where there is an apartheid regime," he repeatedly told various artists.

Loach was heavily criticized last summer after reports revealed that, although he called for a boycott on Israel, he himself was profiting from screening his films there.

Loach replied, through his producer Rebecca O'Brien, that the distribution company of "I, Daniel Blake," signed a distribution agreement with Israel "accidentally" and without his knowledge.

"We asked not to sell the film to Israel, but during the Cannes Festival, junior representatives from the production company quickly sold the film to Israel, forgetting that Ken had asked not to sell the film for screenings there," O'Brien told The Guardian.

As a result of the claimed error, the film was screened in Israel despite the fact that many viewers who watched it did not know that their money would now help BDS and its efforts to continue to defame Israel's name abroad.

Shani Films, which distributed the film in Israel, has yet to respond to the reports.