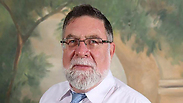 Mysterious murder believed to be nationalistically-motivated
The murder of Reuven Shmerling—who was found beaten to death on Wednesday—is now being treated as a nationalistically-motivated hate crime, after initially thought to be the result of a financial dispute; Shmerling's body was found one day before his 70th birthday.
The murder of Reuven (Moti) Shmerling, which took place on Wednesday, is now being investigated as a nationalistically-motivated incident.

Shmerling, 70, of Elkana, was found on Wednesday in a coal storehouse belonging to his family in the Kafr Qasim industrial zone, with signs of severe violence on his body.

It was initially suspected that workers from the territories who worked with him beat him to death over a monetary dispute.

However, the police and Shin Bet who are investigating the crime have since changed their suspicions, though as details of the investigation are subject to a gag order, their reasoning remains unclear.

On Thursday, Shmerling was supposed to celebrate his 70th birthday with his family—including his four children and 19 grandchildren. Instead, he was laid to rest at Elkana Cemetery.

Hundreds of family and friends escorted him on his last journey. The head of IDF's Central Command, Maj. Gen. Roni Numa, was also present at the funeral.

The Shmerling family arrived at the funeral with a shirt made especially for his birthday, which read: "It's a sign that you're young. Celebrating 70 with Grandpa Moti."

"Grandpa, it's just not registering; we were all sitting around on holiday, waiting for you to enter the sukkah with a big laugh or a song, sit at the table and take one of the little ones in your arms," said Hadar, his eldest granddaughter.

"Our beloved father, everything was ready for your birthday," added his daughter, Idit. "We prepared a song, printed shirts, prepared a presentation and a game for the whole family—but you weren't there. We didn't have the chance to say goodbye."