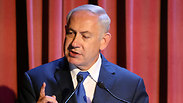 PM Netanyahu speaking at the Christian Media Summit in Jerusalem
Photo: Amit Shabi
Israel to probe foreign funding of human rights groups
PM Netanyahu announces during first-ever Christian Media Summit in Jerusalem intention to form parliamentary committee to investigate 'organizations that operate against' IDF soldiers; 'Our soldiers keep us safe and we intend to return the favor,' Netanyahu says.
Prime Minister Benjamin Netanyahu said Sunday evening he intends to establish a parliamentary committee to investigate the funding Israeli NGOs receive from foreign governments.

Speaking to a gathering of Christian journalists in Jerusalem, Netanyahu said that the committee will probe "organizations that operate against" Israeli soldiers and promised to "put an end to this."

"Our soldiers keep us safe and we'll keep them safe," Netanyahu said after stating that "there is no army more moral that the IDF. That's a fact."

Israel already has a law, passed last year, which increases the regulation of many Israeli human rights organizations who receive foreign funding.

But Netanyahu's announcement Sunday highlights the hostility against those groups from Israeli hard-liners. It came after Israel convicted IDF soldier Elor Azaria this year for shooting to death a wounded Palestinian terrorist. That incident was caught on video by a human rights group.

Netanyahu's comments came at the Christian Media Summit in Jerusalem, the first such event Israel says it has hosted. His comments and the event itself reflect the close ties and staunch support for Israel in the evangelical world.

Netanyahu also told the assembled group of Christian media professionals that Israel has no better friend than the world's Christian communities.

That support has been magnified by the election of President Donald Trump. Trump counts white evangelicals among his strongest supporters. Trump has wooed them by repeatedly promising to protect the religious liberty of Christians and being strongly sympathetic toward Israel.

Attitudes in Israel toward evangelicals are evolving, from skepticism about Christian Zionist motives, to the realization that Israel cannot survive on the support of Diaspora Jewish communities alone.