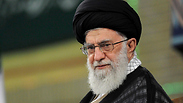 Supreme Leader Ayatollah Khamenei
Photo: AP
Iranian Supreme Leader Ayatollah Ali Khamenei said on Wednesday Tehran would stick to its 2015 nuclear deal with world powers as long as the other signatories respected it, but would "shred it" if the United States pulled out, state TV reported.

Khamenei spoke five days after President Donald Trump adopted a harsh new approach to Iran by refusing to certify its compliance with the deal, reached under Trump's predecessor Barack Obama, and saying he might ultimately terminate it.

The move put Washington at odds with other parties to the accord—Britain, France, Germany, Russia, China and the European Union—who say Washington cannot unilaterally cancel a multilateral accord enshrined by a UN resolution.

Khamenei, Iran's highest authority, welcomed their support but said it was not sufficient. "Europe must stand against practical measures (taken) by America," he said. If Trump ditched the deal, "Iran will shred it".

Khamenei also said Iran was determined to continue its disputed ballistic missile program despite the pressure from Europe and the United States to suspend it. Tehran has said it is developing missiles solely for defensive purposes.

"They must avoid interfering in our defense program, " Khamenei said. "They (Europeans) ask why does Iran have missiles? Why do you have missiles yourselves? Why do you have nuclear weapons? We do not think it is acceptable for the Europeans to join America in its bullying."