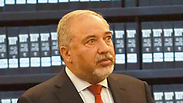 Abigdor Lieberman
Photo: Defense Ministry
Lieberman says Iranian statements 'won't change Israeli policy'
Speaking shortly after Iran's military chief of staff indicates Israeli strikes in Syria will no longer be tolerated, defense minister states Israeli policy won't be dictated by, or altered in accordance with, such remarks; says Israel 'has the tools' to deal with Iranian threat.
Israel's Defense Minister Avigdor Lieberman said Wednesday that despite earlier comments by Iran's military chief of staff General Mohammad Baqeri that the Islamic Republic would not accept Israeli violations in Syria, provocative statements would not dictate changes of course in Israeli policy.

"We won't change our policies according to statements like these by the Iranians or anyone else," Lieberman told Yedioth Ahronoth on Wednesday evening.

Earlier in the day, Baqeri, speaking alongside his Syrian counterpart Ali Abdullah Ayyoub at a press conference during a rare visit to Damascus, told a crowd of journalists "It is not acceptable for the Zionist regime to violate Syria anytime it wants."


Baqeri's comments came against the background of a skirmish that took place between Israeli and Syrian forces earlier this week when the latter launched an SA-5 anti-aircraft missile at Israeli Air Force planes on a reconnaissance mission over Lebanon.

In retaliation, the IAF bomb the SA-5 battery, destroying its fire control radar.

Despite the Iranian hints that acts of force such as these would be responded to in kind, Lieberman indicated that the IDF would not be deterred from continuing its policy of destroying weapons convoys in Syria heading for terror proxies such as Hezbollah bent on using them against Israel in a future confrontation.

Repeating the mantra frequently peddled by the Israeli government, Lieberman said during a tour of the Binyamin region that Iran was undoubtedly attempting to spread its control into Syria and establish a military presence in a quest to become the dominant regional power.

"We won't allow this. We have the tools to cope with this challenge," said Lieberman, echoing a statement made by Prime Minister Benjamin Netanyahu the previous day during a meeting in Jerusalem with Russia's Minister of Defense Sergey Shoygu.