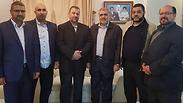 A senior Hamas delegation arrived Friday for an official visit to Iran's capital of Tehran, two months after relations between the estranged terrorist group and the embattled Islamic republic were mended following years of estrangement.

During the days-long visit, members of the organization's leadership will meet with senior Iranian officials and update them on recent developments on the reconciliation agreement signed with Fatah and on their struggle against Israel.

The delegation is headed by Hamas deputy leader Saleh al-Arouri, who led the previous delegation to Tehran and is also in charge of directing the activities of the military wing of Hamas in the West Bank.

"The delegation, led by Hamas deputy chief Saleh Arouri, arrived in the Iranian capital at noon today," Hamas said in a statement on Friday.

As of yet, there are no official details regarding the delegation's itinerary.

This is Hamas' second visit to the state since August, when Hamas leader Yahya Sinwar said his group has restored relations with Iran and is using its newfound financial and military aid from the country to gear up for a new round of battle with Israel.

Prior to the delegation's previous visit, al-Arouri—who lived in Beirut after being expelled from both Turkey and Qatar—met with Iranian Parliamentary Director General for International Affairs Hossein Amir-Abdollahian.

The meeting was also attended by Hamas' top representatives in Lebanon, Osama Hamdan and Ali Baraka.

At the meeting, the Iranian official stressed that an important part of regional security and the struggle against terrorism was linked to the strengthening and unity of the axis of resistance against the State of Israel. He added that Tehran supports Hezbollah, Hamas and Islamic Jihad, and advocated for the unity of Muslims against the Zionist entity.

Iran was once the top backer of Hamas, an Islamic militant group that seeks Israel's destruction. But Hamas broke with Iran in 2012 after the group refused to support Iran's close ally, Syrian President Bashar Assad, in the Syrian civil war.

During this period, Iranian financial aid to Hamas decreased significantly, but did not stop altogether.

Relations between the two were restored after the last internal elections held by the Hamas, in which the pro-Iranian bloc, led by Sinwar, al-Arouri and several others, came to power. Hamas expects that Iran's financial and military assistance to the organization will improve during the current term of the organization's leadership.