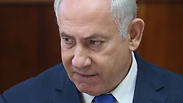 Prime Minister Netanyahu
Photo: Alex Kolomoisky
Police set ultimatum to PM: Set date for questioning, or we will
After weeks of stalling, police investigators signal if PMO doesn't set date in coming days, one will be set arbitrarily; the PM will be asked to provide his version to testimonies collected in investigations against him, particularly that of billionaire Arnon Milchan.
Police investigators have grown tired of waiting for the Prime Minister's Office to coordinate a date for them to question Prime Minister Benjamin Netanyahu, making it clear that if the PMO doesn't set a date, they will.

To complete the investigations against Netanyahu, police investigators need at least one more long questioning session, possibly split into two shorter meetings.

During questioning, police investigators will ask the prime minister to provide his version to testimonies collected in the different investigations, particularly to billionaire Arnon Milchan's testimony.

As they did in the past, police investigators once again asked the PMO to coordinate a date for them to arrive at the Prime Minister's Residence in Jerusalem, where they will question Netanyahu under caution.

But weeks have gone by, and the PMO has yet to offer such a date. At first, the prime minister was traveling abroad on official business, then came the High Holy Days, and in between Netanyahu, his office said, was too busy.

Police officials believe the PMO is trying to "play for time," and its officials are intentionally dragging their feet on finding a date.

"It appears it serves someone on the other side to draw out the investigation," one official said in private conversations.

So far, investigators have proceeded with caution due to the sensitive nature of the investigation, but upon realizing there was no rush in the PMO to set a date, they decided to take a more proactive approach in an effort to bring the investigations to their conclusion soon.

To that end, the police have been signaling the PMO that if a date is not set in the coming days, they would have no choice but to arbitrarily set a date—as they do for any other person summoned for questioning—and the prime minister would have to comply.

The PMO did not provide comment for the report.

The ultimatum set by the Israel Police to the prime minister comes on the heels of a public rift between Netanyahu and Police Commissioner Roni Alsheikh. A journalist close to Netanyahu falsely reported Alsheikh was planning to run for office, the police commissioner received warnings from associates the PMO was unhappy with him and Netanyahu himself publicly accused Alsheikh of allowing a "tsunami of leaks" from the investigations.

Alsheikh rejected the accusations, insisting that the so-called "tsunami of leaks" have not been emanating from the police.

"The leak is not from the police. I have full confidence in the way in which the sensitive investigations are being handled in the Israel Police," Alsheikh stated during a meeting of senior police officers.