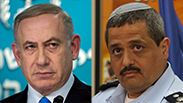 Netanyahu (L) and Alsheikh
Photos: Gil Yohanan, EPA
Prime Minister Benjamin Netanyahu attacked the Israel Police's conduct on Saturday, as news came out that the police will continue investigating both cases in which he is suspected of bribery: namely, the cases involving his allegedly receiving illicit gifts from rich donors (also known as Case 1000), and his talks with Yedioth Ahronoth owner Arnon Mozes on gaining more favorable coverage in return for promoting legislation against Yedioth's rival newspaper Israel Hayom (also known as Case 2000).

"When (Police Commissioner Roni—ed) Alsheikh took office, he made two important decisions: there will be no more leaks from the investigations, and that there will be no more recommendations made by the police," Netanyahu stated on Saturday. "Since political adviser Lior Horev was appointed as an external adviser to the police, costing millions taxpayers millions and without a tender, the illegal leaks have become a tsunami, and the decision to avoid recommendations has disappeared as if it never was.

"The public has long understood that there is a clear media campaign against the prime minister. As it always has been in the past, this time all allegations against the prime minister will prove to be false, and therefore nothing will come of them."

Lior Horev declined to comment on Netanyahu's accusations.

According to reports, police investigators will try to once again coordinate an investigation of Netanyahu, some time over the next two weeks.

It was also reported on Saturday that Netanyahu would be required to testify in the submarines affair (also known as Case 3,000), in which he is currently not a suspect, at a later date.

Opposition Leader Isaac Herzog responded to Netanyahu's remarks by saying, "What began with artists, journalists and judges has now reached the police." He continued by accusing Netanyahu of incitement and acting for personal gain, even at the price of "causing damage to the symbols of law and the government."

Former Prime Minister and Defense Minister Ehud Barak also responded, over Twitter: "It's starting. Netanyahu is on his way out, ready to burn the country, a despicable and dangerous persecution of the state's institutions. When the law threatens Bibi, Bibi threatens the law."

Yesh Atid Leader Yair Lapid, came out against the prime minister in a statement that read, "Netanyahu's attack on the police commissioner - a new low in an attempt to threaten the rule of law in the country."

In August, the police expanded the ban on the publishing information pertainig to the ongoing investigations against Netanyahu. As part of the request for the order, it was revealed that the one of main suspicions against Netanyahu is bribery. At the time, Rishon Letzion Magistrate's Court Judge Einat Ron, stated: "Today, Superintendent Shlomo Meshulam appeared before me as part of the investigations and affairs known as '1,000' and '2,000' that include suspicions of bribery, fraud and breach of trust."

Arnon Mozes is the publisher and owner of Yedioth Ahronoth Group, which includes Ynet.