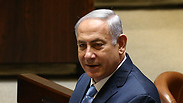 New bill may prove to be double-edged sword for PM Netanyahu
Photo: Ohad Zwigenberg
Likud pushes bill barring police recommending indictment
With 'French law' forbidding investigating sitting PM practically scrapped, Likud moves to enact law barring police from recommending indicting suspects at investigation's conclusion; while AG Mandelblit, Ministry of Justice not expected to object, Bayit Yehudi, Kulanu against immediate applying law to PM, push for 2020 application date.
With the Likud's "French Bill" prohibiting police from investigating a sitting prime minister all but scuttled, the ruling party is now focusing its efforts on a bill which would prevent the police from recommending an indictment against suspects when an investigation concludes, despite objections from coalition parties.

The "French Bill" was shelved Wednesday when Ministers Naftali Bennett and Ayelet Shaked (Bayit Yehudi), who asked to not bring it up for a debate and a vote, claimed it breaches coalition agreements.

The pair's request was sent to Coalition Chairman MK David Bitan and came in response to the latter's announcement he would bring the bill to vote in the Ministerial Committee on Legislation this coming Sunday.

A poll published in Yedioth Ahronoth corroborated the fact that not only is the bill in disfavor with the general public, it's frowned upon even by the coalition's own electorate.

Due to Shaked and Bennett's objections, MK Bitan announced discussion of the bill will be postponed by a month, but he stated his intent on promoting another piece of legislation, announcing he'll be pushing through in the next couple of weeks a bill forbidding the police from sending investigation materials to the State Attorney's Office with a recommendation whether to indict the suspect or not.

Knesset sources said this is another effort at protecting Prime Minister Benjamin Netanyahu with a law whose sole aim is preventing the police from recommending whether to indict the prime minister on any of the affairs he's been investigated on.

Unnamed figures from within the coalition, however, stated they will be objecting to the bill if it applies to Netanyahu's investigations, as both the Bayit Yehudi and Kulanu parties are expected to vote against it should that be the case.

While the bill—in and of itself—was deemed worthy, elements from Bayit Yehudi, Kulanu and even the prime minister's party itself have opined it should be blocked so long as it appears to be aimed solely to provide legal refuge to Netanyahu.

The solution offered by coalition heads is to pass the law with a caveat saying it will only enter into force starting 2020, thereby preventing it from being applicable to the prime minister's pending investigations.

The bill is not being promoted as a Basic Law, effectively circumventing the requirement to cultivate a unanimous consensus from all members of the coalition, who are empowered to invoke a veto on the matter. As a normal law being brought forward by the government, therefore, all members of the coalition are obliged to support it according to previous coalition agreements.

Since figures within the Bayit Yehudi party are ill at ease with a law applicable retroactively, the bill is now pushed with a 2020 application date.

Moreover, personalizing the law for Prime Minister Netanyahu risks becoming a double-edged sword, coalition sources say, as it may engender greater motivation by the police to recommend indicting Netanyahu before the bill passes its second and third readings.

Someone who is not expected to object to the bill is Attorney General Avichai Mandelblit. Despite the Ministry of Justice not being thrilled with the bill, a senior legal source said, it could not find legal fault with proceeding to enact it.

A similar demand arose a decade ago, the source added, but police vehemently objected claiming investigators were hard at work for months on end and wished to summarize their findings in the form of an indictment recommendation.

The matter was concluded when the attorney general and police agreed investigators would present an "investigation summation" instead of a recommendation, in which they would mention whether the case possess sufficient evidence or not. With the possible passage of the new bill, MK Bitan intended to strip investigators of stating even that.

Channel 2 News reported Wednesday police are objecting to the bill, claiming any change in the recognized investigative framework may hinder the investigation itself. Attempts to prevent the police from summarizing an investigation they have conducted themselves, a police source cautioned, may render one of the chief objectives of an investigation—to determine whether sufficient evidence exists to indict—completely meaningless.