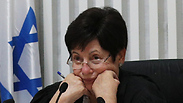 Outgoing Chief Justice Miriam Naor
Photo: Yonatan Sindel/Flash90
Naor bids tearful farewell to Supreme Court
After 38 years as judge and 17 as Supreme Court justice, Miriam Naor retires in moving ceremony; 'Israel can be proud of independence of its judges, who bow their heads to nothing but the law,' Naor says in farewell address; 'Despite age difference, I felt like we were the oldest of friends,' says Justice Minister Shaked.
After nearly 38 years on the bench—17 of which on the Supreme Court—Chief Justice Miriam Naor retired Thursday by ratifying the verdict allowing Tel Aviv supermarkets and recreation centers to remain open on Shabbat. With the formalities over and farewell addresses commencing, however, Naor was visibly moved to tears.

"Even today, after decades and working in every legal instance in the country, I am deeply thankful my path in life led me to the judges' bench. When I pledged my allegiance to the State of Israel and its laws, I received for safekeeping, with much trepidation and adulation, the torch of the Supreme Court. I gave my solemn promise to preserve the judiciary—its autonomy, the judges' independence, its unbiased verdicts and the upholding of justice," said Naor in her farewell address.

"I believe that when a judge presides over a case, they mustn't project their worldview or values onto it. We respect the Knesset, but other branches of government must respect the court's independence and its obligation to defend minorities," added Naor, the last Supreme Court judge born before Israel's independence.

"The State of Israel can be proud of the independence of its judges, who bow their heads to nothing save the law. But an independent judiciary should not be taken for granted; it must be preserved. If we fail to defend democracy, democracy will not defend us," she wrote.

The ceremony was attended by Minister of Justice MK Ayelet Shaked, Attorney General Avichai Mandelblit and Justice Esther Hayut, who stepped into Naor's shoes by being sworn in as Supreme Court Chief Justice Thursday afternoon, a role she's expected to fill for the next six years.

Shaked also regaled with a farewell address of her own. "When news broke of my accession to the Ministry of Justice, I was warned the judiciary would be giving me a hard time. I was warned the power struggles between my predecessors and chief justices were nothing compared to what I had in store. I was told to take a deep breath and come before the bench filled with fighting spirit. So they said. Despite the age difference, I felt like we were the oldest of friends right from our very first meeting," she said.

"Working with you has been pleasurable, prolific and respectful. It's no secret we've had our fair share of disagreements, but we knew to rise above them and manage them in a way that's respectful to the country and the people of Israel," Shaked added.

"Sometimes I agreed with your verdicts and sometimes I didn't, but I always knew your motivations were pure. Your rulings defy categorization. You approached every case with a clean slate and an open mind," she concluded.

Attorney General Mandelblit spoke next. "You dedicated a central, meaningful part of your life to the court with devotion and a deeply ingrained feeling of justness. Every case was a world unto itself and you did your utmost to see justice done, to preserve human rights and promote them and to defend democracy and the rule of law," he said.

"Your verdicts were a paragon of analytical legal analysis, based on facts, a commitment to legal rules, an understanding of a complex reality, common sense and a lot of sensitivity. In your ruling you've done a great deal to defend ethicality and the war on corruption, to shore up democratic values and human rights, to tackle issues of religion and state and to develop new edicts," Mandelblit added.

'You oftentimes held back from butting heads with your detractors'
Incoming Chief Justice Hayut spoke of her time alongside Naor. "Our souls have intertwined and a tight-knit, close friendship formed. Unfortunately, attacks on the court did not spare you personally. Oftentimes I've seen you holding back from butting heads with your detractors. You've shown great virtue by choosing the high road," she commended her colleague.

"You faced down challenges with dignity and strength, in your own stately, humble manner. Your conduct as judge and chief justice was a model of the proper conduct for a civil servant. As civil servants, we hold no power or sovereignty. Upholding the rule of law and basic principles of a parliamentary democracy are our only desires, and we'll carry out this mission without fear or bias," Hayut added.

Naor entered the legal system in 1980 when she was selected for the Jerusalem Magistrates' Court, and retired from the loftiest position in the judiciary. Along the way, she presided over some of the country's biggest legal cases, including decreeing African asylum seekers cannot be held in the Holot facility for more than 20 months or detained when they refuse to consent to deportation and issuing the verdict calling the agreement exempting yeshiva students from army service discriminatory.

In another precedential verdict, Naor decreed overseas conversion to Judaism will be deemed valid by the state for the purposes of the Law of Return, so long as it was performed in a "recognized Jewish community", even if it wasn't necessarily Orthodox.

Former justice minister,Prof. Daniel Friedmann, commented on Naor's tenure. "Miriam Naor more or less continued her predecessors' line, but there's still a feeling of unease in the court. During her time in the court, two Supreme Court judges announced their resignation, which is unheard of in the annals of the court," he said.

"When the court is overworked on the one hand with a significant drop in its public standing on the other, it needs to rethink several issues," the former minister of justice added.