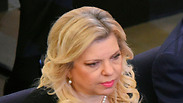 SR, a former cleaner at the Prime Minister's Residence who filed a lawsuit against the premier's wife, Sara Netanyahu, provided testimony to the police on Sunday.

While the suit, filed at the District Labor Court, is civil in nature, SR's lawyers believe her testimony includes details of criminal wrongdoing that police investigators should be made aware of.

SR testified for seven hours. Among other things, SR alleged that Mrs. Netanyahu threatened her with violence, which would constitute a criminal offense.

The plaintiff, a 24-year-old Haredi woman, filed a civil suit against Mrs. Netanyahu Thursday alleging mistreatment and abuse while she was employed at the Prime Minister's Residence. She began her employment on August 27 this year but ceased working there only a month later.

SR is seeking NIS 225,000 in damages, describing how the prime minister's wife abused her, humiliated her, lashed out at her and was even close to physically assaulting her.

In her suit—naming the residence itself, the cleaning company through which she was employed, the prime minister's adviser on Haredi affairs Rivka Paluch, chief caretaker Efi Azulay and Chief of Staff Yoav Horowitz as co-defendants—SR recounts her travails from the moment she started working at the residence, through the rigorous interview and screening process and concluding with her alleged escape a month later.

On Saturday night, SR's lawyers released text messages their client sent her sister while she was work at the Prime Minister's Residence, in which she described the bad treatment she allegedly endured from Mrs. Netanyahu.

SR's attorneys said the texts were only part of the body of evidence they allege proves their client's claims.

The first text SR sent went on the evening of September 3, 2017, eight days after she started working at the residence. "I'm totaled, working there obliterates the body and health. I really hope G-d will grant me strength," she wrote her sister.

A week later, SR wrote to her sister: "I left work early, have to come back at 4. (She) Made my life miserable!!! I felt subhuman. I've wanted to go to the bathroom or eat since 8:30am."

A spokesman for the Netanyahu family said in response to the release of the text messages: "We're fed up with the false claims, whose entire purpose is to slander the Netanyahu family and extort huge sums of money from the state. This is a false suit, which recycles old claims using 'copy-paste.'"