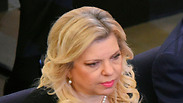 Former employee tells relative: 'Sara Netanyahu made life miserable'
Attorneys for SR, suing PM Netanyahu's wife Sara for alleged abuse and mistreatment while working at Prime Minister's Residence, release correspondence between plaintiff and her sister showing complaints were made in real time. 'I felt subhuman, Mrs. Netanyahu made life miserable,' SR wrote her sister.
SR, who filed a lawsuit against Sara Netanyahu, Prime Minister Benjamin Netanyahu's wife, alleging the latter abused her, texted her sister while she still worked at the Prime Minister's Residence to complain Mrs. Netanyahu made her life miserable and that working at the residence was a "nightmare."

Attorneys for SR released the correspondence with her sister in an effort to prove her claims of maltreatment during her employment at the residence were levied in real-time. The texts are only part of the body of evidence they allege proves their client's claims.

The first text SR sent went on the evening of September 3, 2017, eight days after she started working at the residence. "I'm totaled, working there obliterates the body and health. I really hope G-d will grant me strength," she wrote her sister.

Many additional texts were sent September 10, an especially busy day as the prime minister and his wife left for a Latin America and US trip and would only return September 20, just before Rosh Hashanah.

According to SR's texts, the situation at the Prime Minister's Residence that day was dire. At 2:36pm, SR wrote her sister, "I left work early, have to come back at 4. (She) Made my life miserable!!! I felt subhuman. I've been wanting to go to the bathroom or eat since 8:30am."

"What a head case," her sister responded.

Minutes later, at 2:42pm, SR texted her sister again. "I can't believe I have to go back there today. Nightmare, nightmare, nightmare. Luckily she goes in for makeup, hair at 6pm. Some time off!" she wrote exasperatedly.

After arriving back to her own home for a break, SR wrote her sister, "What fun! Food, drink, toilet—far from obvious! Thank G-d!"

Nearing the end of the September 10 workday, after Mrs. Netanyahu and her husband left for the airport, SR breathed a sigh of relief and finished working. "I finally left work. Neither alive nor dead!" she texted her sister.

The employee, a 24-year-old Haredi woman, filed a civil suit against Mrs. Netanyahu Thursday alleging mistreatment and abuse while she was employed at the Prime Minister's Residence as a cleaner.

The sequence of events described in the suits happened mere weeks ago, after a labor court ruled in favor of Meni Naftali and Guy Eliyahu in suits they filed against Mrs. Netanyahu and criticized their mistreatment while working in the residence.

SR, a married mother of three, began her employment on the second floor of the Prime Minister's Residence on August 27 this year but ceased working there only a month later.

SR is seeking NIS 225,000 in damages, describing how the prime minister's wife abused her, humiliated her, lashed out at her and was even close to physically assaulting her.

In her suit—naming the residence itself, the cleaning company through which she was employed, the prime minister's adviser on Haredi affairs Rivka Paluch, chief caretaker Efi Azulay and Chief of Staff Yoav Horowitz as co-defendants—SR recounts her travails from the moment she started working at the residence, through the rigorous interview and screening process and concluding with her alleged escape a month later.