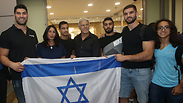 Israel's national judo team met Minister Regev at Ben Gurion
Photo: Oren Aharoni
Returning judo delegation sings national anthem in airport
Returning from Abu Dhabi tournament with 5 medals, Israel's national judo team greeted at Ben Gurion Airport by Min. Regev, who joined them in singing national anthem, which was barred from Abu Dhabi contest; 'We showed everyone what we're worth,' says gold medalist Flicker.
After a long journey home, Israel's national judo squad returned from the Abu Dhabi Grand Slam tournament all in smiles, and with a respectable five medals in their baggage as Tal Flicker won the gold in the up to 66 kilograms weight category, while Gili Cohen (up to 73 kilograms), Peter Paltchik (up to 100 kilograms) and Ori Sasson (over 100 kilograms) walked away with the bronze.

"It was clear as day to us we'd compete even when we were stuck in the airport. Competing was the best decision we could've made. We came to the contest to give it our all and when I took to the podium to sing HaTikva, we showed everyone what we're worth. Now everyone knows exactly where we're from and what we're worth," Flicker said when he touched down in Israel.

Minister of Sport Miri Regev came to Ben Gurion Airport to greet the returning medalists, who gathered around her to sing the Israeli national anthem, a simple gesture denied them during the Abu Dhabi tournament.

Minister Regev and the Israeli judo team's rendition of HaTikva

"We had much cause to come here and meet the medalists, you've honored us on the international stage. It warms the heart. We closely followed your exploits and today every Israeli child knows what an ippon is," she said. An ippon, for those not in the know, is the highest possible score for a contestent in a Japanese martial arts competition.

"I usually don't come in to the airport to greet returning athletes, but it was important for me to be here today due to the difficult circumstances you found yourselves in. Unfortunately, despite all the work we've done behind the scenes the (Abu Dhabi organizing committee's—ed) decision remained in place. I fight for our flag and anthem everywhere, and when (President of the Israel Judo Association Moshe) Ponte decided the delegation will leave as planned I told him we have to win in front of the people choosing to boycott us," the minister recalled.

Ponte himself spoke next, saying, "We're athletes concerned with the national team's success and I'm glad we ended up competing. This group of athletes has mental acumen the likes of which I've never seen. Tal (Flicker) took to the podium and sang HaTikva and it moved us all, and the entire world. Going certainly paid off."

The Abu Dhabi tournament was marred by controversy when its organizing committee refused to allow any Israeli national symbols, including the country's flag and anthem. However, following a meeting between delegates of the International Judo Federation, Israel and Abu Dhabi it was declared next year the competition's organizers will do their utmost to showcase Israeli regalia.