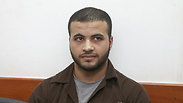 Convicted terrorist Izz a-Din Awad
Photo: Ohad Zwigenberg
Accessory to murder of Israeli in terror attack appeals for lighter sentence
Terrorist Izz a-Din Awad, who assisted his father Ziad in murdering Baruch Mizrahi in 2014, appeals conviction, 21-year sentence, claiming he cooperated with Shin Bet in finding murder weapon, providing information leading to father's conviction; calling for harsher sentence, victim's widow says, 'No more soft touch with terrorists, both in prison and the court system.'
A month after father and son terrorists Ziad and Izz a-Din Awad were sentenced to prison for the murder of Commander Baruch Mizrahi in Kiryat Arba in 2014, the son's lawyers decided to appeal the conviction and 21-year prison sentence claiming he helped the Shin Bet convict his father.

The appeal, made several days ago, refers to Izz a-Din, who was sentenced to 20 years for being an accessory to the murder and an additional year for wounding Hadas Mizrahi, Baruch's wife. Ziad Awad, who was released in the Gilad Shalit prisoner swap deal, was convicted of Mizrahi's murder and given two life sentences.

Baruch's widow Hadas was infuriated by the very idea of the appeal. "Someone who appeals a non-maximal sentence should receive an even worse one by the court to deter any future would-be terrorists. No more soft touch with terrorists, both in prison and the court system," she demanded.

In April 2014, on Passover eve, Commander Mizrahi drove with his family to spend the Seder with his family in Kiryat Arba. Terrorist Ziad Awad was waiting on the side of highway 35, northeast of Hebron, and shot at passing Israeli vehicles with an AK-47.

Mizrahi was mortally wounded by the shooting and pronounced dead a short time later. Mizrahi's wife Hadas suffered moderate wounds and their son, also in the vehicles, suffered minor wounds.

Izz a-Din, Ziad's son, confessed knowledge of his father impending terrorist attack and even assisted his escape. The Shin Bet said he later provided the weapon used to carry out the attack and gave further information that proved valuable for convicting his father.

Considering the above, his attorneys are now attempting to reduce his sentence by appealing to the court.

Attorney Haim Bleicher from the Honenu organization that has assisted the family said, "Justice has not been completely served as it pertains to the murderer's son, who planned and assisted the attempted murder of entire families and their children, and to the heinous murder of Commander Baruch Mizrahi. And now the damned terrorist has the gall to appeal his sentence. We call on the court to provide a harsher one."

Mizrahi's son Itay spoke at a protest rally held in front of the Prime Minister's Residence Sunday, in which bereaved families and heads of West Bank regional councils demanded budgets be allocated for extra security and bypass roads in the settlements.

"My father can't be brought back. Please do whatever you need to bring my mother home. She belongs at home, not in a protest tent in front of your house," Itay Mizrahi appealed to Prime Minister Benjamin Netanyahu.