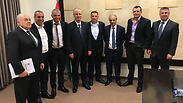 Kahlon in his meeting with Hamdallah
Kahlon meets Palestinian PM in Ramallah
In spite of recent gov't decision to halt peace talks with Palestinians, Finance Min. Kahlon meets Palestinian PM Hamdallah in latter's Ramallah offices; other Israeli, Palestinian senior officials also in attendance, as revealed by photo of meeting tweeted by special Trump Mid-East envoy Greenblatt.
Despite the Israeli decision to not negotiate with the Palestinians, Finance Minister Moshe Kahlon met Palestinian Prime Minister Rami Hamdallah in his Ramallah offices Sunday, with Coordinator of Government Activities in the Territories Maj.-Gen. Yoav Mordechai and Finance Ministry Director-General Shai Babad also in attendance. Head of Palestinian intelligence Majid Faraj and Minister for Civilian Affairs Hussein a-Shikeh attended for the Palestinians.

President Donald Trump's envoy to the Middle East Jason Greenblatt tweeted a photo from the encounter, writing, "Important progress last night between Israeli & Palestinian sides led by @RamiHamdalla & @KahlonMoshe & Gen Mordechai of @Cogat_Israel. Meaningful steps forward on key economic issues - revenues, customs, and investment - that help support the search for peace."

The timing of Kahlon's meeting is intriguing, as a mere two weeks ago the Prime Minister's Office announced the cabinet had decided to halt all negotiations with the Palestinians until Hamas was disarmed, made after the Hamas-Fatah reconciliation agreement.

While a decision was made to halt peace negotiations, coordination between Israel and the Palestinians remained in place.

During his time in Israel, Greenblatt also met with the parents of Israeli soldier Hadar Goldin, who was killed near Rafah during Operation Protective Edge. Tweeting a photo of a drawing by Goldin, Greenblatt wrote, "Just saw moving Peace Dove by Hadar Goldin who was killed & taken by Hamas-enemies of peace. All Israelis held must be returned."
Just saw moving Peace Dove by Hadar Goldin who was
killed & taken by Hamas-enemies of peace. All Israelis held must be
returned. pic.twitter.com/huCCGRAPfq

— Jason D. Greenblatt (@jdgreenblatt45) October 30, 2017
Kahlon's meeting with Hamdallah was held on the backdrop of with President Trump's recent decision to dispatch his son-in-law and senior adviser Jared Kushner, Deputy National Security Adviser for Strategy Dina Powell and special representative for international negotiations Greenblatt to Saudi Arabia.

During the visit, the American delegation conferred with Saudi Crown Prince Mohammad bin Salman to promote a regional peace initiative. Kusher also held talks with senior officials from Israel, the Palestinian Authority, Egypt, United Arab Emirates and Jordan.

A senior White House official stressed Sunday that despite the aforementioned talks, Trump stressed repeatedly that peace between Israel and the Palestinians can only be achieved through direct negotiations and that the US will continue close cooperation with the two parties to achieve that end.

"No deal will be forced on the Israelis and Palestinians. We're committed to moving forward with this deal because it will improve conditions for both sides," the White House official said.

The American official also divulged US representatives recently met individually with representatives from Egypt, the United Arab Emirates, and other regional partners on the outliers of the United Nations General Assembly in New York.

More recently, he said, Greenblatt traveled to Cairo, Amman, Jerusalem, and Ramallah and met with officials, and he will have further meetings in the coming weeks.