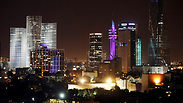 Tel Aviv at night
Photo: Reuters
Rocket alert siren in Greater Tel Aviv area was false alarm
Siren sounded in Tel Aviv-Jaffa, Givatayim, Bat Yam, Holon and Azur at 2:48am scares many Israelis amid tensions on the Gaza border following tunnel explosion and foreign reports IAF attacked in Syria; IDF: 'False alarm will be investigated.'
Many residents in central Israel awoke at 2:48am Thursday to the sound of a rocket alert siren, which ended up being a false alarm.

The siren was heard in cities in the Greater Tel Aviv area, including Tel Aviv-Jaffa, Givatayim, Bat Yam, Holon and Azur.

False alarm wakes Israelis in middle of night (צילום: מוטי קמחי, איתי בלומנטל)

The IDF Spokesman's Office said several minutes afterwards that "an examination found the siren sounded was a false alarm. The issue will be investigated."

A rocket alert siren drill was scheduled to take place in the Greater Tel Aviv area earlier this week in the morning hours, but it was called off amid the tensions on the Gaza border after the IDF blew up an offensive tunnel crossing into Israeli territory.

The tunnel explosion in Gaza, and foreign reports that Israel Air Force jets attacked an ammunition factory in Syria, leading the Assad regime to respond by firing an anti-aircraft missile, raised fears of retaliation among the public.