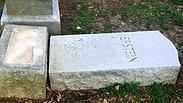 Jewish graves desecrated in American cemetery
ADL reports 67% hike in US anti-Semitic incidents
American Anti-Defamation League publishes report showing 67% increase in 2017 anti-Semitic incidents compared to previous year; number of incidents reported in first 3 quarters of 2017 exceeds entire number of incidents in 2016; 1,299 incidents of physical assault, vandalism, attacks on Jewish institutions took place in US so far.
The American Anti-Defamation League unveiled a worrying report Thursday, according to which 2017 has thus far seen a 67 percent increase in the number of anti-Semitic incidents in the United States compared to last year.

Between January 1 and September 30, 1,299 anti-Semitic incidents took place in the US, including physical assaults, destruction of property and attacks on Jewish institutions. The number of incidents reported over this nine-month period already exceeds the entire number of incidents reported during 2016, which was 1,266.

There has also been a marked increase in anti-Semitic incidents reported in American primary and secondary education institutions as well as college campuses. In addition to the significant upswing in the first quarter of 2017, there was also a distinct increase after the white supremacist rally in Charlottesville, Virginia, in August.

Footage of Charlottesville's 'United the Right' rally

Compared to 2016, there has been a higher number of incidents in each of the first three quarters of the current year compared to 2016's first three quarters. A record number of incidents was recorded in the first quarter of 2017, with 667 incidents, with numbers slowing down in the next two quarters, which recorded 632 each.

The ADL's data showed that during the aforementioned nine-month period, there have been 703 incidents of harassments, including 162 bomb threats against Jewish institutions, 584 incidents of vandalism, 50 of which were against Jewish institutions, and 12 physical assaults.

While the data showed incidents all across the US, similarly to previous reports the largest number of incidents were reported in the US states with the largest Jewish populations: New York with 267 incidents, California with 197, Massachusetts with 117, Florida with 69 and Pennsylvania with 58.

As mentioned above, there had been a marked increase in anti-Semitic incidents immediately following the "United the Right" rally in Charlottesville. Of the 306 incidents reported in the third quarter, 221 took place on the day of the rally, August 11, or later. The rally was one of 33 white supremacist events in the US this year, with an additional 188 incidents in which said white supremacist handed out fliers to disseminate their message of hatred.

Anti-Semitic continued arousing serious concern on many US college campuses and public, private and ecclesial schools. The number of incidents in elementary and high schools doubled in 2017, compared to the same time period last year: 269 in 2017 compared to 130 in 2016.

Of those 269 incidents, 142 included harassment and 114 were incidents of vandalism. In college campuses, 118 anti-Semitic incidents were reported in the first three quarters of 2017, compared to only 74 during the same timeframe last year, marking a 59 percent increase.

"We are astonished and horrified by the rise in anti-Semitic harassment, incidents and violence targeting our communities. While the tragedy in Charlottesville highlighted this trend, it was not an aberration. Every single day, white supremacists target members of the Jewish community—holding rallies in public, recruiting on college campuses, attacking journalists on social media, and even targeting young children. For over a century, ADL has worked tirelessly to protect any community targeted by hatred – and we're not about to stand down now. No matter how emboldened these fringe elements of society may feel, they will never threaten our mission," vowed Jonathan A. Greenblatt, ADL CEO and National Director.

"We are deeply troubled by the rising number of anti-Semitic incidents, bullying, and hate in our nation's schools and we don't think the statistics paint a full picture of what is happening. Many school-based incidents still go unreported. As a country, we have to do more to ensure that our schools remain places where students can learn safely without fearing bullying and hate," Greenblatt concluded.