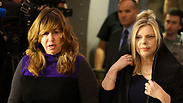 Sara Netanyahu, right, with Rivka Paluch
Photo: Amit Shabi
PM's aide allegedly tried to get new job for woman suing Mrs. Netanyahu
Shira Raban, cleaner who filed a lawsuit against Sara Netanyahu claiming abuse while she worked at the PM's Residence, alleges Rivka Paluch, the PM's advisor on Haredi issues, asked Israel Post CEO, among others, to offer her a job, apparently in an effort to silence her.
Rivka Paluch, an advisor to Prime Minister Benjamin Netanyahu, who is also considered close to his wife Sara, has allegedly asked Israel Post CEO Dani Goldshtein to offer a job to Shira Raban, a former employee at the Prime Minister's Residence, who is now suing Mrs. Netanyahu for alleged abuse.

According to the lawsuit, Paluch, the prime minister's advisor on Haredi issues, brings Haredi women to work as cleaners at the Prime Minister's Residence.

The lawsuit alleges Paluch approached Raban after the latter left the Prime Minister's Residence and promised to find her a job.




Shortly after the alleged promise was made, Raban received a text message from Goldshtein offering her a position as a postal service clerk with low pay.

Raban claims she declined the job offer, as she has been promised a job as a state employee.

It is unclear what is the nature of Goldshtein's ties to Paluch, or his ties to the Netanyahu family. It is also unclear whether Goldshtein knew of the circumstances behind Raban's departure from the Prime Minister's Residence.

Goldshtein's offer came before Raban filed the lawsuit against Mrs. Netanyahu at the labor court, apparently to appease Raban and stop her from filing the suit.

Raban also claims in her lawsuit she was approached by the Prime Minister's Residence's chief caretaker, Efi Azulay, who threatened her, allegedly telling her that if she files a lawsuit against Mrs. Netanyahu, she would find herself unemployed and on the street like former PM Residence chief caretaker Meni Naftali, who successfully sued Mrs. Netanyahu under similar claims.

Furthermore, Raban was also allegedly approached by an aide of a senior government minister, who asked to meet with her so he could offer her another job. She claims she declined the meeting after already having decided to file the lawsuit.

"As we said, we have additional evidence that would bring down all of the lies of the Netanyahu family, one after the other," said Raban's lawyer, Oren Gross. "If Raban only interacted with Sara Netanyahu for a few of minutes, why did they bother sending, among others, the Israel Post CEO to make her a job offer in return for her silence?"

The Israel Post did not deny Goldshtein's appeal to Raban via text messages, which she has kept and presented as evidence in her suit.

"The process of sorting and hiring employees at the Israel Post is done solely through the Human Resources Department, in accordance with company needs. (Raban) was never employed in our company," the Israel Post said in a statement.

Paluch said in response: "I will provide my responds, as the law dictates, to the court."