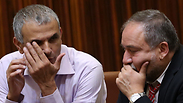 Kahlon (L) and Lieberman
Photo: Alex Kolomoisky
The chairmen of Yisrael Beytenu and Kulanu, Defense Minister Avigdor Lieberman and Finance Minister Moshe Kahlon, announced Saturday in two separate interviews on Channel 2 News that they will not join a government headed by Zionist Union Chairman Avi Gabbay.

Sources in the coalition claimed that the move between Lieberman and Kahlon was coordinated.




"I can say in the clearest way possible: We will not all be a fig leaf in a leftist government," Kahlon said. "I'm not angry at Avi Gabbay, but I'm disappointed in his conduct. I am a member of the national camp, unlike the Labor Party. Therefore, I do not see any situation in which we all join the leftist Labor government."

Lieberman also announced that his party would not sit with Gabbay.

"There are at least two parties, Yisrael Beytenu and Kulanu, who will never join the coalition with Gabbay," Lieberman said, adding that if they won't, Gabbay would not succeed in forming a coalition. "This is not in ill will, but because of a thousand and one different reasons."

In a response, MK Eitan Cabel (Labor) dismissed the two's comments as wild assertions.

"If Lieberman and Kahlon predict that Gabbay will head the coalition, then I predict that they will want to be part of it."