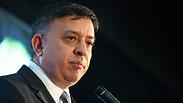 Labor Party Chairman Gabbay
Photo: Motti Kimchi
Labor Party Chairman Gabbay says no to coalition with Joint List
Gabbay rules out possibility of coalition with Arab Joint List, saying nothing 'connected' the two parties; Gabbay does not rule out coalition with Kahlon, adding Livni would have reserved place in next Knesset list; Prisoner Rehabilitation Authority Director Bibi at same event: 'Aryeh Deri example of unsuccessful rehabilitation.'
Labor Party Chairman Avi Gabbay said at a Be'er Sheva Shabatarbut event Saturday he would not be willing to form a coalition government with the Arab Joint List, saying he didn't see anything that "connects us with them."

"In order to form the next government, we would need around 27 mandates, whereas (Yesh Atid Chairman Yair) Lapid would need 11," Gabbay explained.

Gabbay was also asked about the prospect of his party allying itself with Finance Minister Moshe Kahlon's Kulanu party, in light of the tense relationship between the two, as Gabbay was himself a member of Kahlon's party in the past.

"Everybody wants to have their say. Apart from two parties insisting on staying out of power, everyone wants to be in the coalition," Gabbay said in response.

Gabbay also added he believed Tzipi Livni's place on the Zionist Union's list for the next elections would be reserved, and confirmed a place would also be reserved for a former member of the security establishment. Perhaps hinting at the person's identity, he expressed his hope former Minister of Defense and IDF Chief of Staff Moshe (Bogie) Ya'alon will join the Labor Party.

From local politics, Gabbay went on to speak about international affairs, and President Donald Trump's press conference about Iran and the nuclear deal.

"Iran is a real threat to the State of Israel, but not an existential one. It was a very nice speech. But you have to remember Trump has already told Congress twice Iran is living up to its part of the deal," Gabbay said.

"Obviously isn't cannot allow Iran to reach nuclear capabilities… There is the stage of speeches, and that's followed by the stage of closed-door diplomacy. Last time we ran away from that. We made it as far as the speeches stage, but because we were absent from the diplomacy phase, we couldn't impact what was going on," Gabbay criticized.

When asked about Trump's hard-line stance on Iran, which sometimes seems to eclipse even Prime Minister Benjamin Netanyahu's own position, Gabbay said, "We're the ones who have to live here. The Americans don't, and we have to do whatever safeguards our own interests."

"I think we need to keep pushing for sanctions, especially on terrorism. I hope Trump would take it that extra step and won't settle just for speeches," Gabbay added.

Gabbay then went on to speak about the American decision to withdraw from UNESCO, which was quickly followed by a similar Israeli declaration. "It was my understanding we were blindsided by the American decision. We have a tendency to be taken by surprise with these things… If the Americans left UNESCO, we don't have to stay there either," he said.

Gabbay then stressed he thought the fact a Jew was voted to be the next UNESCO director should have no bearing on the decision to leave the organization.

The same event also hosted Director of the Prisoner Rehabilitation Authority Director and former MK Aryeh Bibi, who shared data about number of prisoners successfully rehabilitated. When asked about the rehabilitation of Interior Minister Aryeh Deri, who was convicted of corruption offenses and served jail time, Bibi replied he was an example of unsuccessful rehabilitation.