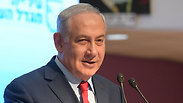 Netanyahu at Migdal HaEmek construction agreement ceremony
Photo: Amos Ben Gershom, GPO
Netanyahu in message to Hamas: 'There are no free gifts'
PM vows to return home Israeli citizens, soldiers' remains being held in Gaza, while stressing Israel will not return terrorists' bodies without anything in return; 'We will bring our boys home, but I repeat: there are no free gifts,' says Netanyahu.
Prime Minister Benjamin Netanyahu stressed Monday that "there is no such thing as a free gifts" in an apparent message to Hamas that Israel would not return the bodies of five of terrorists killed in a terror tunnel demolition without progress made on the return of Israeli citizens and the bodies of two IDF soldiers who are being held in Gaza.
"We will bring our boys home, but I repeat: there are no free gifts," Netanyahu said during a ceremony marking a large-scale construction agreement in the northern city of Migdal HaEmek.
Hamas, whose men were lost while trying to save Islamic Jihad terrorists following the tunnel's collapse, had announced it would not trade information on Israeli MIAs and POWs in exchange for the missing terrorists' bodies.
Netanyahu also relayed a message to the Islamic Jihad—who carried out the tunnel's excavation—saying that Israel does not intend to hold on to the terrorists' bodies for very long.
"The government has two roles: to protect the country and to build it," Netanyahu continued. "We have a simple rule: whoever wants to attack us, we attack them."
Minister of Construction and Security Cabinet member, Yoav Galant, told Ynet on Monday that while he symphathizes with the families of Lt. Hadar Goldin and Sgt. Oron Shaul, whose bodies are believed to be held by Hamas, negotiations to retrieve them should not be held in a public forum. "The right thing to do is to go under the radar and not raise the issue publicly," said Galant.
"Unfortunately, returning the bodies (to the Palestinians) won't return the POWs and MIAs (held by Hamas). Even if we were to return the bodies, they'd be unwilling to release a single shred of information," added Galant.
After the IDF blew up the tunnel, which crossed into Israeli territory, senior Hamas official Mahmoud a-Zahar said that "no details on the soldiers will be provided in exchange for continuing the search for our missing men," adding that "information will only be provided in return for releasing prisoners incarcerated in Israeli jails." A-Zahar also said he considered Israel's terms to be blackmail.
"There are martyrs buried in every piece of this land, and our stance has therefore remained unyielding: whether the martyrs are buried in Gaza or on the border, they are buried on our land either way," a-Zahar concluded.
Last week, the IDF stated it will not allow international, humanitarian organizations to retrieve terrorists' bodies from the wreckage. The Coordinator of Government Activities in the Territories (COGAT), Maj. Gen. Yoav Mordechai, spoke to Jacques De Maio, the head of the International Committee of the Red Cross delegation to Israel, stressing to him that Israel "would not allow search efforts in the Gaza Strip security zone without progress on the issue of Israeli POWs and MIAs."