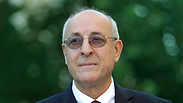 Yitzhak Molcho
Photo: Alex Kolomoisky
PM's associate questioned by police named as Yitzhak Molcho
Molcho, Netanyahu's diplomatic envoy, has negotiated with the Palestinians, the UK, Turkey and Egypt on the prime minister's behalf; he is suspected of breach of trust in the submarine case; Molcho and his partner David Shimron confronted with state witness Miki Ganor.
Yitzhak Molcho, Prime Minister Benjamin Netanyahu's envoy on diplomatic matters, is the close associate who was detained for questioning earlier this week as part of the submarine affair, it was cleared for publication on Tuesday morning.

David Shimron, Molcho's partner and Netanyahu's attorney, was also detained earlier this week, and the two were confronted with state witness Miki Ganor on Monday.

The police are investigating suspicions of corruption surrounding the procurement of submarines and patrol ships for Israel's Navy from German conglomerate ThyssenKrupp, a deal mediated by Ganor, who was represented by Shimron.

Molcho's lawyer, Zvi Agmon, said in response to the allegations against his client that "He was an envoy for many years, and never took care of his own interests, only those of the country. He has no connection to the submarine affair."

Molcho, 72, maintains he and Shimron are innocent and believe the allegations against them are another attempt to harm Netanyahu.

The two are among the senior partners in the E.S.Shimron, I.Molcho, Persky & Co. law firm, which has been representing the Netanyahu family for many years.

Molcho further maintains that he had no hand in the submarine deal, and that he and Shimron kept their affairs completely separate, with one not knowing about the other's sensitive missions on behalf of the prime minister.

Shimron has been serving as Netanyahu's personal consigliere and has been entrusted with the Netanyahu family's personal legal affairs.

Molcho has been Netanyahu's diplomatic envoy since his first term in 1996. He has negotiated on behalf of the prime minister, primarily with the Palestinians, the United States, Turkey and Egypt.

The two are close personal friends of the Netanyahu family and also have familial ties to the prime minister—Shimron is Netanyahu's second cousin and Molcho is married to Shimron's sister.
'Israel's citizens will greatly appreciate your contribution'
In July, Attorney Shahar Ben-Meir asked Attorney General Avichai Mandelblit to bar Molcho from continuing to work as Netanyahu's special envoy, claiming his continued employment under the prime minister constitutes a conflict of interest due to his work ties with Shimron.
This led Molcho to unexpectedly announce his resignation two weeks ago after 11 years of service.
"I request that you discharge me from my position, which I have been filling on your request for several years on a volunteer basis," Molcho wrote in his resignation letter to the prime minister. "I thank you for allowing me to serve the country."
Officially, Molcho explained he felt he's done enough and has already asked Netanyahu to resign his post a year ago, but close associates said Molcho also did not wish to go under the scrutiny of the Supreme Court.
Netanyahu accepted Molcho's resignation and in his response letter briefly described the special relationship between them.
"I do not need to list the sensitive and important policy tasks you've done," Netanyahu lauded Molcho. "You did it with a rare combination of talent, experience and comprehensive knowledge of the issues. It is not yet time to reveal all your actions, but I am sure that when that moment comes, the citizens of Israel will greatly appreciate your contribution."
Molcho, Netanyahu's closest confidant on diplomatic matters, is also considered a moderating influence the prime minister and encouraged him to pursue a peace process.
But he also made quite a few enemies in the Foreign Ministry, the Mossad, the Shin Bet and the National Security Council. Netanyahu would send Molcho on various sensitive diplomatic missions, while the relevant bodies would only learn about it after the fact. Among others, Molcho had clashes with the former national security adviser Uzi Arad and the late Mossad director Meir Dagan.
Molcho did earn trust in Washington, with many in the American administration valuing his discretion when entrusted with confidential information.
Molcho and Shimron's law firm reportedly more than doubled in size thanks to their ties with Netanyahu, though close associates deny such reports, with one saying "The firm only lost from it. Rather than investing all of his time in the firm, Attorney Molcho invested a lot of hours representing the country."
Molcho declined official positions
In the past, Netanyahu wanted to appoint Molcho to a variety of official roles, including the attorney general, the justice minister, the chairman of the Israel Electric Corporation and the chief of staff in the Prime Minister's Office—but Molcho refused all of these offers.
Molcho worked on a volunteer basis and received no pay from the state, but did receive an expense account. He had an office in the PMO, from which he often worked.
He was invited to Cabinet meetings and to all of the small closed forums of government. Netanyahu even sent him to brief Cabinet members of sensitive issues quite a few times.
In recent years, Molcho has also been sent on secret missions.
Yedioth Ahronoth reports in July that one such mission was in Germany. Among other things, Molcho conveyed to the Germans that Israel was willing to forego a clause included in every agreement it makes with a foreign government barring the seller from selling the same weapons to other countries in the Middle East to ensure its qualitative edge remains.
This allowed Germany to sell Egypt four Type 209 submarines, which were built by ThyssenKrupp and are similar to the ones Israel bought.
Netanyahu apparently failed to update then-defense minister Moshe Ya'alon on the matter, and the latter only learned of the deal between Germany and Egypt after the fact.
In Netanyahu's third government, the prime minister appointed Molcho to head the negotiating team for peace talks with the Palestinians alongside then-justice minister Tzipi Livni. The two clashed—Molcho believed in signing an agreement on principles, while Livni sought a final-status agreement.
The two also came head to head when Livni offered the Palestinians to build in Area C of the West Bank—which is under Israeli control—and claimed she was not authorized by Netanyahu to make such proposals.
Among Molcho's public achievements are the talks to release IDF soldier Gilad Shalit, in which he was involved alongside former Mossad official David Meidan; the talks to release Israeli-American citizen Ilan Grapel, who was arrested in Egypt on false espionage charges; facilitating Egyptian Foreign Minister Sameh Shoukry's visit to Israel in July 2016, the first visit of an Egyptian foreign minister in nine years; and the talks to release Bedouin Israeli citizen Ouda Tarabin after 15 years in Egyptian prison in return for the release of six Egyptian prisoners.
Netanyahu first sent Molcho on a diplomatic mission soon after he was first elected prime minister in 1996. Molcho was sent to talk to Palestinian leader Yasser Arafat in Gaza. He was then sent on another meeting in Ramallah, equipped with a letter from Netanyahu that said "This is a man I have full confidence in, and I am convinced that when you get to know him, you too would have full trust in him."