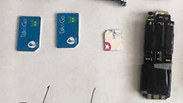 Cellphones stashed in underwear
Photo: Israel Prison Services
Guards at Israel's Ktzi'ot Prison thwarted an attempt Wednesday to smuggle cellphones to a Fatah security prisoner when his five-year-old child visiting the facility was found to be carrying communication devices in his underwear.

The prisoner, a resident of Yatta in Hebron, is serving a 12-year term after being convicted of conspiring to commit a murder and of manufacturing explosives.


His family arrived at the prison located in the Negev desert on Wednesday for one of their periodic visits during which a glass partition divides the prisoner and his visitors.

However, the meeting is occasionally held away from the glass partition for a few minutes as a humanitarian gesture toward the families and their children.

During the visit, the guards grew suspicious after noticing unusual behavior by the child who was subsequently subjected to a body search.

During the search, ten homemade cellphones were found stashed in his underwear, along with three SIM cards.

The visit was immediately brought to an end upon discovery of the devices and the prisoner was transferred to solitary confinement. The family members were apprehended at the prison and the police were called to the prison to launch an investigation.

In March, MK Basel Ghattas from the Arab Joint List was convicted of fraud, breach of trust, providing means to commit an act of terrorism, smuggling electronic contraband and cellphones to security priosners and breaking prison ordinances.

In June, Ghattas arrived at Gilboa Prison to begin his first day behind bars after being sentenced to two years for smuggling cellphones to security prisoners in Ktzi'ot Prison.