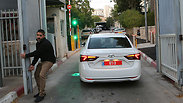 Police investigators enter the PM's Residence
Photo: Alex Kolomoisky
Police investigate Netanyahu for four hours on corruption allegations
Police investigators from Lahav 433 Investigative Unit question Netanyahu at PM's Residence for fifth time over bribery suspicions; this is the first time Netanyahu is investigated since his former chief of staff Harow turned state witness.
Prime Minister Benjamin Netanyahu was interrogated for the fifth time for four hours on Thursday at the Prime Minister's Residence, by police investigators from the Lahav 433 Investigative Unit. Netanyahu is currently being investigated regarding bribery allegations in several different cases.
This was the first time Netanyahu has been investigated since his former chief of staff Ari Harow turned state witness. Harow is reportedly cooperating with the police on the illicit gifts affair (also known as "Case 1,000"), which is looking into billionaire Arnon Milchan's gifts to Netanyahu and his wife, Sara. Among other allegations, it is said that Netanyahu had pushed for Milchan to receive a US visa by contacting then-US state secretary John Kerry three times on the matter.
The investigators questioned Netanyahu under warning on suspicion of bribery, based mainly on Milchan's testimony. Netanyahu adhered to the version that the gifts he received were between friends, and that he never intended to "reciprocate."
Netanyahu was also interrogated on Thursday on his recorded conversations with Yedioth Ahronoth media publisher Arnon Mozes, as part of "Case 2,000": specifically, the two are suspected of brokering a deal that would have Mozes's media empire give less critical coverage of Netanyahu, in exchange for Netanyahu seeing to a decrease in the circulation of Yisrael Hayom—a free newspaper and Mozes's main competition, which is owned by staunch Netanyahu's supporter, US casino mogul Sheldon Adelson.
Finally, Netanyahu was also due to be asked about the submarine deal ("Case 3,000"), in which several of his close associates and familial relations have been questioned, in regard to the the Israeli Navy's procurement of several submarine from German shipbuilding company ThyssenKrupp. Netanyahu is not considered a suspect in this case, and his comments on it will be regarded about as a freely given testimony.
Following the end of his investigation, Netanyahu issued a statement, saying, "I will repeat it this evening with absolute confidence: there will be nothing, because there was nothing!"
The police has previously complained of Netanyahu's unavailability for questioning, with some saying that he is "trying to make the time pass," and that "perhaps someone on the other side finds it beneficial to to draw out the investigation."
Netanyahu, for his part, has repeatedly stated his innocence, claiming that "there is nothing—because there was nothing."
Arnon Mozes is the publisher and owner of Yedioth Ahronoth Group, which includes Ynet.