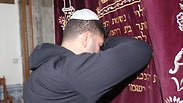 Sasson praying at the synagogue
Photo: Oren Aharoni
Despite losing in the World Openweight Judo Championship to French Judoka Cyrille Maret in Morocco on Saturday, Israeli Judoka Ori Sasson had an enjoyable and meaningful time in the day leading up to the competition, as he visited the last operational synagogue in Marrakesh, as well as the local Jewish cemetery.
Sasson surrendered to Maret in the second round, and was thereby ousted from the competition. It was his first battle in the tournament.
Ori Sasson training before competition
Prior to Saturday's match, the only time when the two champions had met was during the 2013 European Championships in Budapest.
Maret had also won in their 2013 match.
A time to pray
Prior to the match and before the Sabbath entered, Sasson took some time away from his training and arrived at the only active synagogue in the Moroccan city of Marrakesh, along with his coach—Oren Smadja, himself an Olympic medalist—and the chairman of the Israel Judo Association—Moshe Ponte, also an Olympic judoka.
The past few weeks have been particularly turbulent for the Israeli team: despite repeatedly winning gold, the judokas had to contend with a political backlash to their participation in international events, as the team was forbidden from any Israeli national symbols, including the Israeli flag and national anthem, during the Abu Dhabi Grand Slam, which took place in October.
Israeli Judo delegation visits synagogue and Jewish cemetery (צילום: אורן אהרוני)
As such, when Israeli Judoka Tal Flicker won First Place in the half-lightweight division, the Judo Association's anthem was played instead of the Israeli HaTikva. Undeterred, Flicker was spotted mouthing the Israeli national anthem as he stood atop the podium.
Sasson, who also participated in the Abu Dhabi Grand Slam, took home the gold in the heavyweight division. After experiencing several delays and setbacks in attaining a visa to Morocco, he will be allowed to compete there under the Israeli flag.
The last synagogue in town
The road to the synagogue in Marrakesh is crowded with beggars. The guard at the entrance told the delegation that in the past, there were three synagogues operating in the city, but that due to a lack of activity, only one remains, and it too is mainly visited as a tourist site on weekdays.
The guard allowed the delegation to go inside and pray, and later took Sasson, Smadja and Ponte on a tour of the synagogue, telling them about its history and that of local houses where Jews had once lived.
From there, the three continued to the nearby Jewish cemetery, which is run by two Jewish brothers whose grandfather is buried at the site.
After ending their tour of the city, Sasson returned to the hotel for the traditional weigh-in before the competition. It was a sign of the mental change he had to make before the competition on Saturday.