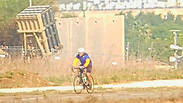 Iron Dome battery in central Israel
Photo: Motti Kimchi
Gaza sources: Egypt pressuring PIJ to hold back
Gaza sources say Egypt exerting tremendous pressure on Palestinian Islamic Jihad to rein in response to tunnel exploded by IDF 2 weeks ago; despite Iranian patronage, PIJ currently acquiescing to Egyptian demands, wishing to preserve relationship with country that holds most sway in Gaza affairs; Hamas, Gaza public also said to be disinterested in escalation.
Egypt has been exerting tremendous pressures on the Palestinian Islamic Jihad (PIJ) organization to not allow rising tensions between the terrorist group and Israel reach full-scale hostilities, Palestinian sources within the Gaza Strip told Ynet.

Egyptian pressures have been placed on PIJ following the heightened state of alertness in Israel, as part of which Iron Dome batteries were deployed in central and southern Israel.

For the time being, Islamic Jihad has chosen to listen to Egypt despite the fact its patron is Iran. PIJ and Egypt has been in constant communication over the past few months, and the organization is said to be immensely proud of the relationship and wishes to preserve it. It is for this reason that Egypt can exert pressure on PIJ in the first place to prevent military escalation.

Egypt's current level of influence on the strip is greater than Iran's, the source claimed. It was further stated pressure was also being exerted by Hamas, whose leadership is currently uninterested in another round of hostilities, mostly out of fear such an escalation will scuttle the nascent Hamas-Fatah reconciliation agreement.

Hamas is said to be well aware any large-scale retaliatory military operation by Islamic Jihad will also drag Hamas itself unwillingly into the conflict. Most of the smaller factions in Gaza are also uninterested in escalation, as is most of the Gazan general public.

Tensions have been running high in Israel's southern region since the IDF exploded a tunnel excavated by Islamic Jihad into its territory two weeks ago. The explosion killed 12 PIJ and Hamas terrorists, including senior figures.

Following the tunnel's demolition, Islamic Jihad declared it considered it a "declaration of war." Israel's security establishment further estimated the hard-line organization would find it hard to hold back from exacting its revenge.

In light of the situation, Israel sternly cautioned the Gaza terrorist organizations, saying it would retaliate with extreme force against both Islamic Jihad and Hamas if attacked.

"The Jihad has hatched a scheme and is playing with fire, we'll retaliate strongly against Hamas as well," said Coordinator of Government Activities in the Territories Maj.-Gen. Yoav Mordechai in a video published over the weekend in which he made veiled threats at the organization's leaders.

PIJ's response was forthcoming, with the organization saying Mordechai's threats "expose the Zionists' true intentions. We have a right to respond to any aggression and, therefore, have a right to respond to criminal aggressions against the resistance tunnels that caused the death of 12 fighters from the military wing of Hamas and the (Islamic) Jihad."

Israel, meanwhile, has been quietly preparing for rising tensions to escalate further by deploying Iron Dome batteries in the central and northern regions of the country. works on the underground barrier near the Gaza border have also started up again, albeit in a somewhat diminished capacity. Work has thus far been carried out in accordance with changing status evaluations, which means work crews can only enter the construction area accompanied by the army. Crews are also obligated to take extreme precautions for fear of sniper or anti-tank fire.