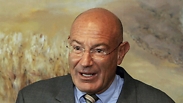 Arnon Milchan
Photo: Getty Images
Milchan: 'I've done nothing, I've committed no crime'
Speaking in an interview with Ynet, Israeli billionaire Arnon Milchan, who is suspected of furnishing Netanyahu family with gifts in exchange for political favors, says he's unfazed by investigation; 'I don't feel anything. It doesn't relate to me'; says police never threatened him not to talk; 'It's an investigation. I'm not allowed to talk.'
Israeli billionaire Arnon Milchan, who is at the center of a bribery investigation involving extravagant gifts he allegedly gave to the Netanyahu family in exchange for political favors, insisted Wednesday "I haven't done anything. I didn't commit a crime."

Speaking in an interview with Ynet a few days after Prime Minister Benjamin Netanyahu was questioned for a sixth time in the probe, also commonly referred to as Case 1000, Milchan, who was questioned under caution and as a suspect, said that he was unmoved by the investigation.

"I don't feel anything. It doesn't relate to me. I don't need to feel anything. I haven't done anything," Milchan said when asked how he felt about the investigation. "I haven't committed any crime, let's say that. I don't know what is happening."

Asked whether the rumors were true that the police had threatened people being questioned in the case not to talk about it, Milchan was unequivocal.

"Absolutely not...Absolutely not. Threatened us? Listen, we are not allowed to talk. We are in the middle of an investigation. It's interrupting the investigation. Every word that is said. I am not allowed to talk," he said.

"I don't feel anything. Nothing has hurt me," Milchan laconically responded when asked whether the fact that he had been questioned as a suspect in the scandal had offended him.

On Sunday, Netanyahu was questioned for four hours for a sixth time, during which he provided his version of events.

At the conclusion of the investigation, the Israel Police issued a statement, but details were admittedly scant.

"We confirm that the prime minister was investigated today for a number of hours at his residence in Jerusalem, as part of the investigation being conducted by Lahav 443," the statement read.

"The investigation is being conducted with the accompaniment of, and under the supervision of, the state attorney with the approval of the attorney general. Beyond the above, and due to the nature of things, we cannot elaborate on more details of the investigation."

Hours after the questioning, Netanyahu tweeted the common mantra professing his innocence: "This evening too, I am absolutely sure: There won't be anything, because there isn't anything!"

While Netanyahu is suspected of accepting gifts from a numerous tycoons, investigators mainly focused on ascertaining the nature of the assistance he allegedly provided to Arnon Milchan in return for expensive cigars and champagne he lavished on the Netanyahu family.