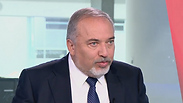 Defense Minister Lieberman
Defense Minister Avigdor Lieberman asserted Tuesday that "there is no physical military Iranian presence in Syria right now."

Lieberman's comment contradicts declarations made by Prime Minister Benjamin Netanyahu, who has repeatedly warned of Iranian entrenchment in Syria. The prime minister also said Iran was building missile factories in the war-torn country, noting that "where ISIS leaves, Iran enters."

In a briefing three months ago, Mossad Director Yossi Cohen updated government ministers about Iran's entrenchment in the region using both Iranian forces and local proxies in Syria, Lebanon, Iraq and Yemen.

Furthermore, Qasem Soleimani, the commander of the elite Iranian Quds Force, was documented in Syria visiting forces in the field quite a few times.

"It's true that there are some Iranian advisers and experts, but there are no military Iranian forces on Syrian soil," Lieberman told Ynet in an interview on Tuesday.

"Iran has a strategy to create a proxy everywhere," the defense minister explained. "After all, they don't have a physical presence in Lebanon. For this, they have Hezbollah. They're not physically present in Yemen, they have the Houthi rebels. They have the same plans in Syria—to create all kinds of militias of Shiite mercenaries, which they will bring from Iraq, Afghanistan and Pakistan."

"All of the players in the region know we are the strongest power in the Middle East. Israel is a regional power," he asserted. "We won't allow Iran to establish a presence in Syria."
'We're dealing with trifles'
The "recommendations bill," which would bar police from making recommendations on indictment, passed a first reading in the Knesset on Monday. The legislation passed thanks to a last-minute change of heart by Finance Minister Moshe Kahlon, who, despite previous objections, agreed to the condition set by the Likud Party that would apply the law retroactively to the investigations against Netanyahu.

"I'm part of the coalition," Lieberman said, explaining why he allowed the bill to pass. "There are bills you like more, and bills you like less. It doesn't matter. At the end of the day, this is the nature of a coalition government. You have to take on tasks even when you don't like them."

He rejected claims the recommendations bill was a "personal bill" meant to help Netanyahu. "The one who initiated it, David Amsalem, is not exactly among Netanyahu's people in the Likud... I remember a year and a half ago he was against Netanyahu and then changed directions again... I don't believe he coordinated this with Netanyahu," Lieberman claimed.

He dubbed the recommendations bill, as well as bill proposals concerning work on Shabbat, as "trifles."

"There is an explosive security situation (in the region), fragile and tense. Look what's happening around us, we're dealing with trifles," the defense minister argued.

Addressing concerns the ultra-Orthodox parties could leave the coalition government if the Shabbat-related bills are not passed, Lieberman said that "Going to elections in this complex security situation is irresponsible... In a situation like this, with all of the threats we're dealing with—Iran, the Gaza Strip, Lebanon and Sinai—should we really be dealing with the 'supermarkets bill' and even dismantle the government over it?"

However, he said he does not believe Israel is heading for elections. "What we've seen with the last two crises—both with the Haredi parties and over the recommendations bill—was that no one wants to go to elections," he said.

Despite dismissing the Shabbat-related bills as "trifles," Lieberman said the proposal that would grant Interior Minister Aryeh Deri the authority to cancel municipal bylaws, including those allowing the opening of some businesses on Shabbat, was "wrong. We must not interfere in daily life, in the delicate fabric of society in different cities."

"There is no reason for the government to interfere in bylaws, which are entirely under the responsibility of municipalities... There is no reason to open stores in Bnei Brak, and no reason to close stores in Ashkelon. Each city has its own character," he said.

Lieberman lamented the fact that "instead of being an embracing Judaism, we're creating a new type of Judaism that is tough, unfriendly, and rejectionist. And in my opinion, this is a strategic mistake," he said.

"These bills have nothing to do with Judaism. It's politics, and nothing more. We can't separate religion and state in Israel, but we must separate religion and politics," Lieberman asserted.
'Major' change in regional security requires additional funds for IDF
Last week, the Defense Ministry asked for an increase of NIS 4.8 billion to the IDF's budget, citing significant security changes in the region.
"The coalition agreement has a clause that specifically states that if there is a significant change (in the region), we can ask for additional funds," Lieberman said, describing the change as "major" but refusing to elaborate further.
The defense minister also lamented the fact that the Finance Ministry has failed to transfer NIS 150 million a year since 2014 to fortifying homes in northern Israel. "The Finance Ministry was part of the committee that led to this decision... and all of a sudden the Finance Ministry doesn't want to give the money... the finance minister has an obligation to fortifying the north," Lieberman determined.
Amid objections to incorporating women in the IDF in general and in combat units in particular, the defense minister said that "I have no objection for a woman to serve in Golani, and I have no ideology to push (women) there."
He also commented on the strained relationship between Israel and Diaspora Jews, saying "I think mistakes were made with relation to the biggest, most important Jewish community: with the Western Wall plan, conversion, and with the deputy minister's (Hotovely) comments... I hope the PM will fix this quickly and get passed this crisis."