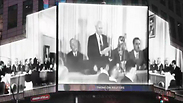 The Times Square video
Photo: WZO
Video on Partition Plan UN vote to be screened in Times Square
World Zionist Organization produces 'I love Israel' video to be screened in NYC's Times Square on enormous screen, showing moments from 1947 UN vote on Israeli independence, first PM Ben-Gurion and current Israeli figures such as PM Netanyahu, Bar Refaeli, David Blatt; Horah dancers to perform immediately after screening.
New York City's famed Times Square landmark will mark the 70th anniversary of the United Nations' Partition Plan resolution on November 29, 1947, which gave rise to the State of Israel, on Tuesday night by screening a video featuring key moments from the country's history, as well as Israelis celebs saying "I love Israel."

The screen, owned by the Reuters international news agency, is 700 sq.m. in size and 22 stories high.

The video, prepared by the World Zionist Organization's department for combating anti-Semitism and titled "I love Israel," is expected to be viewed by hundreds of thousands of people.

Promotional footage of the WZO video (צילום: המחלקה למאבק באנטישמיות בהסתדרות הציונית)

Starring turns include Visionary of the State Theodor Herzl leaning on the Basel hotel's balcony, first prime minister David Ben-Gurion speaking as the votes were being tallied during the UN vote, as well as more contemporary faces, such as Prime Minister Benjamin Netanyahu, Israel's Ambassador to the UN Danny Danon, Bar Refaeli, Noa Tishby, David Blatt and others.

A dance troupe of dozens of Israeli dancers will perform immediately after the screening, with dancers clad in authentic period costumes and dancing the traditional Jewish dance of the "Horah," as countless people did right after the original vote.

World Zionist Organization Vice Chairman Yaakov Hagoel said, "November 29 is a date with immense historical significance, with the United Nations' General Assembly recognizing the Jewish people's right to a national home in the land of Israel. We're proud to screen the moment of the result's declaration, this time in the very heart of the world, on a huge screen, befitting the occasion."

"We must commemorate this important event leading up to the founding of Israel for ever and ever, and remember nothing should be taken for granted in our reality," Hagoel pointed out.