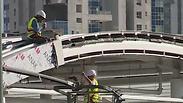 Shabbat train works this past Saturday
Photo: Hagai Dekel
Hours of Work and Rest Law amendment passes preliminary reading
Amendment to Hours of Work and Rest Law states labor min. must consider Israel's traditions when providing permits for Shabbat work; amendment may reduce train, road work on Shabbat, but will not affect Shabbat commerce; 'This is not Israel's tradition, but religious coercion,' says Yesh Atid leader Lapid.
The Knesset plenum voted in a preliminary reading Wednesday afternoon to approve the amendment to the Hours of Work and Rest Law stipulating that before giving out permits to work on Shabbat, the labor and welfare minister will be required to take into account the traditions of Israel.

The amendment, brought forward by MK Moshe Gafni (United Torah Judaism) and supported by the coalition, came into being following promises given by Prime Minister Benjamin Netanyahu to the Haredi parties in the wake of Health Minister Yaakov Litzman's resignation over Shabbat train maintenance work.

When the labor minister considers providing irregular Shabbat work permits, the amendment says, he must take into account considerations relating to the traditions of Israel, or in other words the religious prohibition on working on the Jewish day of rest.

The amendment—if passed—may reduce maintenance and infrastructure works carried out by Israel Railways on weekends, but will not terminate them altogether as per Litzman's demand. The suggested article will not, however, affect Shabbat commerce, as the Hours of Work and Rest Law is not enforced in that regard.

"It has come to light recently that governmental bodies such as Israel Railways and the National Roads Company of Israel have turned the Sabbath into a preferred day to carry out infrastructural works on the country's railways and roads. These works are carried out in public and damage both the country's Jewish character and the feelings of its millions of religious and traditional residents," the bill's explanatory statement said.

"Works are also detrimental to laborers, including many Jews who value Israel's traditions and who are forced to bid their families farewell in order to desecrate Shabbat. Some of the laborers belong to society's lower strata and have no choice but to work on Shabbat, out of the fear that if they refuse they will be fired altogether," the statement further claimed.

During the plenum's debate on the bill, MK Gafni said, "A minister cannot take into account Israel's traditions today. The minister was not obligated by the bill, but said he may consider it. It's not a coercive law, nor does it chance a status existing in other laws. Not taking into account Israel's traditions means forgetting we're Jews."

"The heads of Zionism and leaders of the new Jewish settlement of Israel took Shabbat into account. I'm not proposing a law forcing anyone to do anything. We're not seeking coercion and know where we live. We're merely saying the Knesset should give the minister the option of taking it into account. There's nothing hiding behind it," Gafni added.

Yesh Atid Chairman Yair Lapid also spoke during the discussion and harshly criticized the bill. "The God of Israel does not require your bills. Israel's traditions have gotten on fine without you. All you're doing is fabricating laws to propagate hatred in Israel. Israel's traditions are not yours and you don't own them, they're mine as well. There is no one single version and we won't accept your idea that there is," he stated.

"This is not Israeli tradition but religious coercion laws," Lapid added before turning to Minister Ze'ev Elkin and saying, "Israel's tradition has always been predicated on the love of Israel, dialogue and everyone being in it together. Your side, on the other hand, all of the Likud, bought a small faction of the Jewish people and don't care about anyone else. You won't force Judaism on us because it isn't yours to manipulate."

In a Ynet studio interview Tuesday, Defense Minister Avigdor Lieberman voiced his own objections to the Likud-Haredi agreement to promote the Shabbat bills, including the "supermarket bill," which while not applying to Tel Aviv will provide Interior Minister and Shas Chairman Aryeh Deri with vast authorities to overrule municipal bylaws.

Despite dismissing the Shabbat-related bills as "trifles," Lieberman said the proposal was "wrong. We must not interfere in daily life, in the delicate fabric of society in different cities."

"There is no reason for the government to interfere in bylaws, which are entirely under the responsibility of municipalities... There is no reason to open stores in Bnei Brak, and no reason to close stores in Ashkelon. Each city has its own character," he said.

Lieberman lamented the fact that "instead of being an embracing Judaism, we're creating a new type of Judaism that is tough, unfriendly, and rejectionist. And in my opinion, this is a strategic mistake," he said.