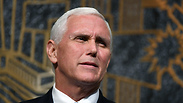 Rajoub: VP Pence 'unwelcome in Palestine'
VP Pence 'unwelcome in Palestine,' says senior Fatah official Rajoub in wake of Trump speech recognizing J'lem as Israeli capital; meeting with PA President Abbas slated for Dec. 19 was canceled, Rajoub added; Pence was expected to visit Israel, Palestinian Authority in Dec., then meet with President al-Sisi in Egypt.
Vice President Mike Pence was expected to visit both Israel and the Palestinian Authority later this month but senior Fatah official Jibril Rajoub said Thursday he was "unwelcome in Palestine."

"In the name of Fatah I say that we will not welcome (President Donald—ed) Trump's deputy in the Palestinian territories. He asked to meet (Palestinian President Mahmoud) Abbas on the 19th of this month in Bethlehem. Such a meeting will not take place," Rajoub announced.

Rajoub's comments came one day following President Trump's speech officially recognizing Jerusalem as Israel's capital and announcing his administration will commence preparation to move the US Embassy there.

The White House announced at the end of October Vice President Pence will visit Israel during the Jewish holiday of Hanukkah. The announcement said Pence's visit will center around Israeli-Palestinian peace and that the vice president will meet separately with Prime Minister Benjamin Netanyahu and President Abbas. Pence is expected to leave Israel for Egypt, where he will convene with Egyptian President Abdel Fattah al-Sisi.

Pence participated last week in a special United Nations event celebrating the 70th anniversary of the UN's vote calling for the establishment of a Jewish state. Speaking about the embassy move to Jerusalem, Pence said, "Congress and the administration have voiced their desire to move the embassy. As we speak, President Donald Trump is actively considering when and how to move the American Embassy from Tel Aviv to Jerusalem."

"The Jewish people have a natural, irrevocable right to an independent state in their ancestral and eternal homeland. I'm deeply humbled to join you today to commemorate this vote and to celebrate the courage, the perseverance and the faith of the Jewish people that made it possible. The president asked me to be here today … to express our appreciation for all who support the Jewish people and Israel. Most of all, the president sent me here with a simple message: under our administration, American will always stand with Israel," Pence vowed.

Vice President Pence's speech

"America stands with Israel because her cause is our cause, her values are our values and her fight is our fight. The administration is committed to finally bringing an end to the conflict. As Trump said, we want Israel to live and peace and have made significant headway in the past few months. Donald Trump will never comprise on the security of the Jewish state," the vice president said in his speech.

Following Trump's speech, President Abbas said, "With this announcement, the American administration has chosen to violate all international and bilateral agreements and resolutions and it has chosen to violate international consensus."

"These deplorable and unacceptable measures deliberately undermine all peace efforts," he said.

Abbas then added the American decision was "tantamount to the United States abdicating its role as a peace mediator" and cautioned the move would serve "the extremist groups which try to turn the conflict in our region into a religious war that will drag the region... into international conflicts and endless wars."

In a dramatic break with traditional US foreign policy, President Trump announced his administration was willing to support the two-state solution if the two parties agreed to it. Trump also said he had instructed the US State Department to make preparations to move the US Embassy from Tel Aviv to Jerusalem, and then immediately signed a six-month waiver on such a move.