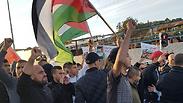 Wadi Ara residents angered over Lieberman's call for their boycott
Following the Defense Minister's call to boycott Wadi Ara in an attempt to make its residents 'feel unwanted here' following Saturday's riots in the area, both Arab and Jewish residents of the region express their furor, urge coexistence.
Both Jews and Israeli Arabs slammed Defense Minister Avigdor Lieberman's calls Sunday to boycott the residents of Wadi Ara and his assertion they were not part of the State of Israel.

Lieberman's comments came in the wake of the violent rioting in Wadi Ara on Saturday, during which rioters threw stones at police cars and buses in the wake of US President Donald Trump's decision to recognize Jerusalem as Israel's capital.

"Lieberman started his life as a racist, so let him continue his racist politics. We'll ignore him, but we have to stress there is coexistence in Wadi Ara," said Ar'ara resident Melhem Melhem. "Neither Lieberman nor a thousand like him can hurt this coexistence. I hope his term doesn't long for too long. He's causing harm both to the state and its citizens."

Melhem went on to say that "Jews and Arabs will continue living and working alongside each other. This is our shared fate. No one gives any credence to his comments. The sane people in this country won't take his comments seriously."

Taufiq Hassan, who owns a bakery in Ar'ara, echoed Melhem's remarks. "I opened my business in the Wadi Ara area, a lot of Jews come to me. I also live among the Wadi Ara population—Ar'ara, Kafr Qara, Umm al-Fahm—and they're all incredible people who are looking for a good and quiet life. Everyone treats guests excellent."

Raja Samer, another resident of the area, added, "Lieberman's comments won't hurt anything. People here love living together. We don't need to pay any mind to a party leader who tries to spoil the relations between the two peoples. It's not a good sign."

"It is detrimental to the coexistence that has been going on in the region for more than 40 years," said Husam Abbas, one of the owners of the Al-Babor restaurant in Umm al-Fahm. "His statements are appropriate for a punk and not for the defense minister. I do not believe a statement by him will succeed in influencing our customers, it will only influence the extreme right. Everyone was a guest here, from Ariel Sharon to Netanyahu when he was still in the opposition."

And it wasn't just the Israeli Arabs who came out against the defense minister's comments.

"I don't want to boycott the people I see as my friends," said Katzir resident Ricardo Kleinman. "Those who made the mess should pay for it, but not all of Wadi Ara. Especially as I'm welcomed with open arms in Kafr Qara."

Meni, also a resident of Katzir, shared Kleinman's feelings. "Israeli Arabs don't care what city is the capital. This isn't a matter of sanctity, so it shouldn't bother anyone. Yesterday, there was rioting so I tried not to leave the home, but today it's quiet and I came to Kafr Qara to do my shopping," Meni said.

Fellow Katzir resident Yaakov Haziza added, "There's no reason to pay any mind to Lieberman's comments. Each nation and group should develop resistance to inflammatory comments. I live in Wadi Ara, and Lieberman doesn't interest me at all, and neither does Trump. I suggest those who throw stones to also pay it no mind."

At the Aroma Espresso Bar at the Kfar Kara junction, several Jewish residents of the area sat and defended the importance of coexistence. "The moment my neighbor is having a bad time, I will have a bad time," said Hezi, a resident of Katzir.

"They are citizens of the state and they have all the rights as such. I also have clients from the sector and there is no chance that I will change my habits towards them because of Lieberman's statement."

Uri Arieli of Sha'ar HaAmakim also expressed his anger: "The new generation of Israeli Arabs is in favor of rapprochement with the state. Only a small minority was responsible for what happened (on Saturday)."

But despite their optimism, a tour along the Wadi Ara route revealed yesterday the tense atmosphere, characterized by the absence of a Jewish presence in the businesses belonging to residents of the Wadi.

In the morning, Ahmed Mahagna, the owner of a bakery in Wadi Ara, was optimistic and said with a smile: "Just wait; Jews come here every five minutes to buy our baked goods."

But after more than half an hour that no Jewish customer had entered the bakery, he changed his tone and realized that apparently they would not arrive today.

Sabrin Ahmed Mahajna, who works with him, stood behind the orphaned donuts who had remained on the tray since Sunday and waited for the Jewish customers who usually snatch them with delight.

"If both leftists and rightists are attacking me—then apparently I am right," Lieberman responded Sunday to criticism against him.

"I have never seen anyone in Wadi Ara with an Israeli flag. That's why they have to understand that they are not wanted here," he said, adding that Wadi Ara residents should prove they are part of Israel by publically condemning Saturday's protests.
Yedioth photographer meets with Arab leaders after 'near lynch'
Gil Nechushtan, a photographer for Yedioth Ahronoth, was fired up when meeting with public figures from the villages near Wadi Ara.
Nechushtan, who was nearly lynched in the violent protest and was still riled up over the chilling incident, opened the conversation with an angry accusation: "You could have helped and stop the riots in a matter of minutes."
When Nechushtan arrived to cover the demonstration on Saturday evening, dozens of masked men attacked him and wrecked his motorcycle.
"Throughout my years as a photographer I have been caught in countless demonstrations, but none of them prepared me for what happened on Shabbat in the heart of the State of Israel," he wrote after the event.
Four influential figures from the city of Umm al-Fahm arrived at the meeting: Faisal Mahajna, the brother of the acting mayor and a well-known public activist, Kamel Agbaria, former head of the Clalit Medical Clinic in Umm al-Fahm, Dr. Afu Agbaria, a former Hadash MK and current surgeon, and Abdia Abdel Latif, one of the city's veteran mall owners and owner of a chain of furniture stores.
The four listened intently to the photographer describe the difficult experience he had undergone.
"It is important for us to convey a message that the residents of the Wadi are in favor of coexistence. I therefore organized a quiet demonstration on the entrance to the city," said Mahajna.
Abdel Latif said that during the event he was busy at work and therefore did not hear what was happening.
"What happened to Gil is unpleasant, and we strongly condemn it," he said.
"The Arab population is law-abiding," Dr. Agbaria decisively stated. "When there are demonstrations in Amona or by the ultra-Orthodox, the attitude is different. The government is hostile to us even though we are talking about a handful of people. You mustn't slander us all because of a few dozen youths."
He then told Nechushtan that the media is vital to maintaining democracy and therefore it is important that it continue to operate in the region.
They summed up the meeting by condemning the violence, but did not express an apology for the incident and repeated their anger over Trump's declaration and Lieberman's calls for a boycott.
"I expect the leaders of the Arab public to find the rioters and ensure that they are punished," Nechushtan said at the end of the meeting. "I have been on good terms with the sector for years and hope that this is the last time that a media person falls victim to such violence. I expect that the meeting will contribute to mutual understanding and the prevention of violence in the future."
Israel Moskowitz and Yuval Kani contributed to this report.