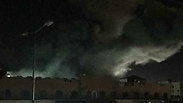 File photo: IAF strike in Gaza
The Israel Air Force attacked a Hamas military complex in the southern Gaza Strip overnight Tuesday in response to rocket fire at the Hof Ashkelon Regional Council.

The Code Red rocket alert siren was sounded at 10:47pm Tuesday in Yad Mordechai and Netiv HaAsara, located near the Gaza Strip's southern border.

Shortly after that, a rocket was found after it had fallen in an open area in Netiv HaAsara. A second rocket was found in an open area outside a community in the Hof Ashkelon Regional Council. Police bomb squad carried out a controlled explosion of the rocket. No one was hurt and no damage was reported.

Israeli defense officials believe Islamic Jihad militants are behind the rocket fire in recent days.

However, Fatah militants released photos this week that purport to show the recent rocket launches at Israel.

Since US President Donald Trump's declaration recognizing Jerusalem as Israel's capital, Code Red rocket alert sirens have been going off in the south on an almost daily basis.

On Friday night, three rockets were fired at Sderot, with the Iron Dome missile defense system intercepting one, while another fell in a street, causing damage to several vehicles. A day later, the remains of a third rocket were found in a kindergarten, which caused damage to the structure.

Late Monday night, the Iron Dome intercepted a rocket fired at Ashkelon. Earlier in the day, a rocket fell in an open area in the Eshkol Regional Council.

No one was hurt in the rocket fire, and the IDF retaliated after each rocket launch with attacks on Hamas targets in the Gaza Strip.

It was cleared for publication Sunday that the IDF had blown up a Hamas terror tunnel reaching hundreds of meters into Israeli territory.

In response, Hamas threatened that "the enemy must be afraid and know it will pay a price for breaking the rules of engagement with the Gaza resistance. The coming days will prove the enormity of the enemy's mistake and miscalculation as to the resistance's willpower."