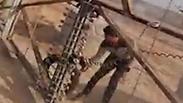 Screenshot from the footage
A popular news site in Gaza published a video clip Wednesday showing a group of Palestinians ripping open and surmounting a barbed wire gate at the southern tip of the Israeli border fence, with no IDF soldiers to be seen in the vicinity.

In the short clip filmed in the Khan Yunis area, near a point where Palestinians have clashed with Israeli security forces in recent days, the youths are filmed in the "perimeter area" or buffer zone where Israeli soldiers patrol in order to prevent infiltrations from the Gaza Strip to Israel.

The exultant youths can be seen celebrating their success in hopping over the fence unhindered as they throw a burning tire over into the Israeli side and scream "Allahu akbar."

Group of Gazans easily cross border

The ease with which the Palestinians were able to breach the fence is all the more surprising due to fact that the section is wired with sensors designed to alert soldiers to any irregular movement at the fence or attempted breaches.

While it was not clear whether the incident took place over the last two days or the week before, according to the Gazan site on which it was published, it was recorded the same day.


Since US President Donald Trump announced Washington's recognition last week of Jerusalem as Israel's capital, Palestinians from Gaza have assembled on the border and staged multiple riots and clashed with IDF soldiers.

During the riots, which swept across Israel, particularly in the West Bank, and at times in eastern Jerusalem, rocks rained down on the IDF soldiers who employed riot-dispersal techniques to distance the protesters from the fence.

Two Palestinians were killed at the Gaza border in the violent outbreaks at the end of last week.

According to the IDF, more spasmodic disruption erupted in various areas at the border in which burning tires and stones were hurled at the soldiers, prompting them to shoot at the main ringleaders.

The IDF also claimed that soldiers were aware of the Palestinians' presence seen in the video the entire time, adding that they were swiftly returned to the strip shortly after.

Military officials also said that a similar incident occurred in the last few days at the border, and individual Palestinian infiltrators were speedily caught and taken in for questioning. In both cases, the IDF said, the Palestinians were being monitored by a military observation post.