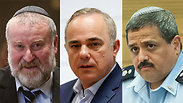 L-R: AG Mandelblit, Minister Steinitz, Commissioner Alsheikh
Photo: Alex Kolomoisky, Yoav Dudkevitch, Reuters
Justice Ministry, police clash over Steinitz interrogation
Tensions mount between Justice Ministry, police over decision to question Energy Minister Steinitz on knowledge of alleged illegal primary campaign contributions; ministry says police signaling desire to interrogate Steinitz, but decision only in hands of AG Mandelblit.
Senior Justice Ministry officials claimed that the Israel Police making suspicions of bribery against Energy Minister Yuval Steinitz public was an attempt by law enforcement to signal they wished to interrogate the minister, prompting the Justice Ministry to make an irregular announcement saying, "The decision to allow a minister to be questioned is not in the hands of the police commissioner."

It was uncovered in Ynet and Yedioth Ahronoth Thursday that state witness Miki Ganor recounted to police the manner in which he received a list of people from David Sharan, Steinitz's chief of staff at the Ministry of Finance, and was asked to transfer money to them so they, in turn, could contribute to the then-finance minister's 2012 Likud primary campaign.

Ganor, a state witness in the investigation into suspected corruption surrounding the purchase of submarines and patrol boats for the Israeli Navy from Germany, also known as Case 3000, said those funds were part of the money he had given to Sharan, with the operative question being whether Minister Steinitz was aware of the transfer.

Despite the fact that Steinitz's closest associates have already been questioned several weeks ago, and police's desire to hear the minister's own account, authorization to question him has yet to be received.

Following the suspicions going public, senior Justice Ministry officials suspected unveiling the information was part of a police ploy to force Attorney General Avichai Mandelblit's hand to authorize questioning Steinitz.

The Ministry of Justice was also privy to suspicions stemming from Sharan's interrogation and Ganor's testimony, it should be noted, and was also in possession of materials that bring the minister's conduct into question.

The Justice Ministry put out a press release Thursday afternoon mirroring its stance in opposition to the police and its Commissioner Roni Alsheikh, which said, "There has been no change regarding Minister Steinitz as far as the attorney general and State Attorney's Office are concerned. In any event, the decision to authorize the interrogation of a minister is not in the hands of the commissioner, but is under the purview of the attorney general."

Police sources were astonished to learn of the Justice Ministry's announcement, saying it provided further proof of the deteriorating relationship between Mandelblit and Alsheikh, stemming from their differences of opinion on questioning public figures.

"We understand fully what they were trying to accomplish here," said Justice Ministry sources while the police declined comment.

Ganor donated funds to Steinitz's Likud primary campaign about a decade ago. In September, several of Steinitz's close associates were questioned in connection with Case 3000, including businessman Gary Hakim, a Likud activist and relative of the minister, and Aviad Shai, Steinitz's former adviser. Steinitz's political adviser Rami Tayeb, meanwhile, was arrested on suspicion of facilitating bribes.

Sharan, who was Steinitz's former chief of staff at the Finance Ministry—and also Prime Minister Benjamin Netanyahu's former chief of staff—allegedly recruited Ganor to aid in Steinitz's election.

Sharan was also arrested in September on suspicion of bribery, fraud and breach of trust.

Police suspect Ganor funded a significant part of Steinitz's November 2012 primary campaign using fake donations transferred via fictitious donors in an effort to bypass funding laws that limit the amount of money one donor can give.

Sharan allegedly recruited these fictitious donors, using them as channels to transfer Ganor's illegal donations to Steinitz's campaign.

Police are investigating whether Ganor received anything in return for his donations.

All suspects have denied the allegations against them. Sharan's attorney declined to comment on Wednesday.

In the past, Steinitz said he was "shocked" by the reports against his close associates and denied having any connection to the affair. On Wednesday, his office said in response: "We have no idea what this is about."