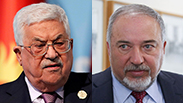 Abbas (L) and Lieberman
Photo: AFP, Reuters
"Security cooperation between Israel and the Palestinians is in (Palestinian Authority President Mahmoud) Abbas's interest no less than ours, if not more. He is still alive because of (it)," Defense Minister Avigdor Lieberman said Friday, scorning the Palestinian leader over his criticism of US President Donald Trump's recognition of Jerusalem as Israel's capital.

"We saw what happened in Gaza and how they killed all the Fatah activists who didn't manage to escape after Hamas took control in the strip," Lieberman said during the Nir David Forum at the Institute of Certified Public Accountants in Jerusalem.

"So the security cooperation doesn't always need to be presented as an Israeli necessity only."


While it is true that Israel also enjoys the benefits of shared security arrangements, Lieberman emphasized that "the other side does so no less."

He added that he did not feel threatened by the threats made that the PA would terminate the ongoing cooperation. "If Mahmoud Abbas wanted to make the dramatic move for a political settlement, why didn't he sign in Annapolis?" he asked in reference to the 2007 Annapolis Conference Middle East peace conference to revive the so-called "roadmap to peace."

"That's why they look for a reason to flee from the path to a political settlement and there's nothing new here. So now it's Trump's declaration about Jerusalem. The ball is in his court because we would be ready to hear a new American initiative."

Speaking about the barrage of rockets that have landed on Israeli soil from Gaza over the past weeks, Lieberman reiterated his claims that the rockets were not the result of an emboldened Hamas and a diminished Israeli deterrence, but rather the result of internal feuds that have ensued following the reconciliation agreement between Fatah and Hamas.

"Hamas needs money for its terror. Combined with this fact, the end of Qatari support and Egyptian activities have lead the rebellious organization to feel like they have lost ground," Lieberman argued.

"These struggles always lead to us being the address to direct anger," he added, stressing that, despite it, Israel "will not agree to any spillage."

"We are on our way to destroy all offensive terror tunnels. We killed 17 Hamas activists in recent months. They are afraid of confrontation," he summarized.

Speaking on the High Court's ruling that Israel has no authority to hold the bodies of terrorists, Lieberman said he already "spoke with the justice minister and there are a few suggestions" as to how to proceed.

Lieberman reiterated his support of a report by the Shamgar Commission on retrieval of captives and missing persons, whose conclusions were submitted more than five years ago, according to which only a few individuals should be released in return for a kidnapped soldier.

"My position is not supported by the government or by the cabinet," Lieberman lamented, expressing his regret that the report, while "necessary both now and in the future," has never been accepted and implemented by the state.

The defense minister also addressed Iran's aim to establish a foothold in Syria, saying "they have a clear strategy and they do not hide their intentions," but stating that the state "will not allow the entire Middle East to be flooded with precision weapons" supplied by the Islamic Republic.

Finally, Lieberman urged people to not jump to conclusion regarding the ongoing criminal investigations against Prime Minister Netanyahu.

"I was interrogated for 17 years and in the end I was acquitted," he noted. "I think the presumption of innocence is for all of us, including the prime minister. He does not have to resign. Let's stop judging people."