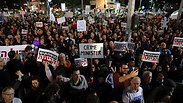 The weekly Tel Aviv anti-corruption protest will receive a Jerusalem counterpoint this week
Photo: EPA
Kulanu, Likud MKs to participate in right-wing Jerusalem anti-corruption protest
Anti-corruption rally to be held in Jerusalem Saturday night garners support from Likud, Kulanu MKs, some of whom say they will participate; 'I'm strongly considering attending. Not all who fight for rule of law, against corruption are against government, Likud party or Netanyahu,' says Likud MK Glick; Kulanu's Roy Folkman, Rachel Azaria also say they will attend; MKs, minister close to Netanyahu appeal to them to reconsider.
The weekly anti-corruption protest, to take place in Tel Aviv Saturday evening—whose organizers are mostly affiliated with the country's left wing—will be met by a similar protest in Jerusalem, albeit one that has been afforded the support and even participation of several right-wing MKs.

Journalist Yoaz Hendel appealed to fellow members of Israel's right-wing in a Yedioth Ahronoth op-ed to take to the streets to protest for the rule of law in response to the mass demonstrations taking place in Tel Aviv's Rothschild Boulevard.

Anti-corruption protests should not, Hendel said, be affiliated with any one side of the political divide, and this notion has garnered support among some Likud members. The party's MK Yehuda Glick, for instance, said he was looking favorably on attending Hendel's Saturday evening protest in the capital.

"Yoaz Hendel's trend is a positive one, and I'm therefore strongly considering attending the protest. His arguments are not anti-Bibi (referring to Prime Minister Benjamin Netanyahu—ed). Unfortunately, the coalition's (recent) obsession with laws (possibly referring to the Recommendations Law and the "French Bill") gave the opposition the tools to claim we were conducting ourselves improperly, and that is regrettable," Glick said.

"I don't want the public to conceive anyone fighting for the rule of law or against corruption to be against the government, the Likud party or Netanyahu," Glick explained.

Other coalition MKs also announced they were expecting to attend the anti-corruption rally. Chairman of the Kulanu parliamentary group Roy Folkman said Wednesday, "A distorted image is forming as if the fight against corruption is a political issue; it isn't. it's a stately issue, and as parliamentary group chairman of a stately party I have some clear positions on this topic, which is a concern to us all. Anyone in favor of a strong State of Israel has to be in favor of a strong rule of law, doubly so within the national (right-wing) camp."

Folkman's fellow Kulanu parliamentarian MK Rachel Azaria voiced the same notion. "Saturday evening's protest is an important initiative. The public's trust in the legal system is a cornerstone of Israel society, and the recent spate of legislation to defend suspects of corruption threatens to undermine it. I intend to be at the rally," she said.

A third Kulanu MK, Meirav Ben-Ari, also supported the idea, albeit in a more reserved manner. "I think Yoaz's idea is proper. The war on corruption is a non-partisan issue. The thing is that (the protest's) timing is problematic. You cannot hold a Jerusalem rally separate from the Rothschild rally, especially when they take place at the same time. The protest is important, but it should not take place now," Ben-Ari opined.

Prime Minister Netanyahu's response to the positive outlook members of his coalition had on the protest was swift, with three Likud MKs and one of the party's ministers considered close to Netanyahu appealing to Likud and Kulanu MKs asking them to avoid participating in the rally.

Netanyahu's confidants told the MKs the protest did not serve the Likud or Netanyahu's purposes, and even damaged them. The Likud MKs and minister did qualify their appeal, however, by saying they were not contacting them on Netanyahu's behalf, but only of their own volition.

The organization for "Different Leadership", headed by former defense minister Moshe Ya'alon, called on its activists to participate in Saturday's protest. "We stand at the right of values, statism and the rule of law. It's not about right or left. War on corruption does not belong only to one side. It's a social, moral challenge to us all. It's a national duty. We must look our children in the eyes and tell them we did everything to preserve the State of Israel," the organization said.